Staff Profile: De'Andra Graham, NUCATS Program Assistant
For program assistant De'Andra Graham, starting a new position just before the new year added yet another ingredient to her already diverse palate. With experience in engineering and gastronomy, she's also acquired a special taste for community building.
"I love to go out with my friends and try new restaurants. I have been a Chicago foodie and content creator for a little over a year now, and I have gained a pretty good following," says Graham.
Graduating from Smith College in 2020 with a degree in General Engineering and a Spanish minor, Graham then pursued a research assistant position at the University of Massachusetts Amherst while on track to earn her Masters. Soon after, Graham decided to change her career path, an altered trajectory that pointed her toward Northwestern: "I became the temporary administrative assistant at Northwestern Pritzker Law School. When that position ended, I applied to NUCATS as the program assistant and started in September of 2022."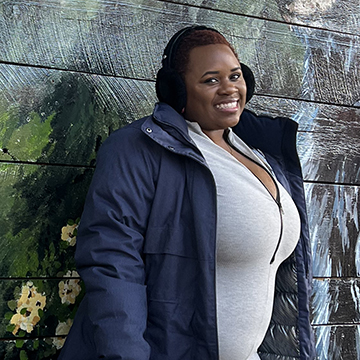 In her latest role, Graham has established herself as a prominent face in the office — and the Institute would not be the same without her efforts. Her day-to-day tasks begin early and ensure that everything is orderly and accessible upon staff arrival. 
"I open the office for the day as soon as I get there, unlock all the conference rooms, distribute mail, put out the kitchen supplies for the week, and organize things around the floor." 
As a vital contributor to the workplace environment, Graham describes her daily responsibilities as "routine." Yet, her position grants various opportunities for future progression and added tasks. 
"My position has a lot of upward mobility with the possibility of advancing within NUCATS or the Northwestern family. This is not a position that anyone should feel stuck in."
Graham continually expresses admiration for the NUCATS community — a network she is proud to be part of. She hopes to capitalize on the ability to critically engage with her more experienced peers.
"I am most excited about working with and learning from my colleagues who have been in the clinical sector for many years. I would like to gain insight and valuable knowledge from others regarding their career path." 
Graham's vibrant home environment mirrors that of her dynamic work culture. Growing up on Chicago's West side in the Austin neighborhood, she now lives with her family.
"I live with my mother, two brothers, one older and one younger, and our 13-year-old puggle, Bella. All my neighbors are very friendly, and the community has many different events to bring us together often."
Whether she's exploring a new restaurant downtown, working at the front desk on Rubloff 11, or spending time with her loved ones, Graham's plate remains full with support and appreciation.
Written by Alex Miranda