NUCATS Town Hall Offers Overview of Resources, 2023 Renewal Efforts
"We stand ready to help from ideation to dissemination and all points in between."
That was one of the messages delivered by Richard D'Aquila, MD, director of the Northwestern University Clinical and Translational Sciences (NUCATS) Institute, during a Town Hall-style event on July 7 at the Simpson Querrey Biomedical Research Center. The event, attended by nearly 150 members of the Northwestern research community, was also livestreamed.
Now in its 14th year, the NUCATS Institute has built, expanded, and enhanced its capacity to catalyze, accelerate, and transform innovative and inclusive clinical and translational science (CTS) to improve human health for all, and for all communities. The Institute's suite of resources — which rests on a foundation of educational opportunities for research staff, faculty, and trainees — provides training, tools, and services to support investigators and study teams throughout their research and career lifecycles.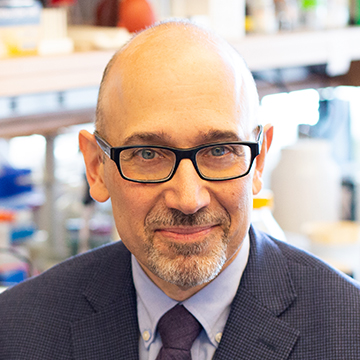 Presenting on the past, present, and future of NUCATS, D'Aquila highlighted several recent accomplishments and outlined plans for the Institute's seven-year grant renewal effort. The interactive Town Hall-format incorporated a digital aggregation of live comments and feedback throughout the presentation. 
"Seeing feedback from attendees in real time provided a great opportunity to address questions and amplify new ideas," said D'Aquila, the Howard Taylor Ricketts, MD, Professor of Medicine in the Division of Infectious Diseases. "There may be no better way to improve what we're doing than by asking for the thoughts and opinions of those individuals who currently use or are considering using our resources."
Funded by the National Institutes of Health's National Center for Advancing Translational Sciences (Grant Number UL1TR001422) as one of the Clinical and Translational Science Award (CTSA)"hubs in a nationwide network, NUCATS is charged by NIH with accelerating the full spectrum of translational research. The aims are to move new health interventions through clinical testing, to implementation into clinical practice, and then assessment of impact on public health of all communities. With additional generous support from the Feinberg School of Medicine and the Northwestern Office for Research, NUCATS provides resources to support such work across the University.
"If you would like to access resources that support any aspect of the translational research spectrum — including training, education, and development of the workforce needed for all phases of research — you can visit our homepage and click on the orange 'Need Help' button," D'Aquila said. "After filling out a brief REDCap form, our NUCATS Navigator team will connect you with applicable resources."
Following user-experience testing, a revamped NUCATS website will launch this summer and include a comprehensive research resources directory.
The NUCATS Institute is actively preparing for its 2023 grant renewal application requesting a seven-year extension of programs, including its two training series. The KL2 program has supported 35 junior faculty scholars, more than three-fourths of whom have received individual or independent funding as PI totaling more than $50 million. The TL1 program has supported 22 postdoctoral scholars and 30 short-term trainees in advancing scientific careers spanning engineering, data science, and children's health.
The NIH modified its requirements for what a CTSA hub like NUCATS needs to do when renewed by more strongly prioritizing "translational science." This means rigorously studying how to best catalyze, accelerate, and transform the full spectrum of translational research performed by the CTS workforce — and then spreading the lessons learned locally.
"Our new mission will be to design and test studies locally so that we can disseminate evidence-based approaches locally, regionally, and nationally," D'Aquila said.
To do this, the Institute — in consultation with its External Advisory Committee and newly launched Community Advisory Council — is utilizing an Opportunity Domain Approach. D'Aquila offered initial thoughts on the four opportunities to accelerate translation now being developed:
Research Participation and Representation: How do we make it easier for groups that have been historically underrepresented in translational research to participate?
Translation from Bench to Clinical Trials: Can adding skills/collaborators to a product development team early speed/improve translation?
Adopting Evidence-based Interventions (EBIs) into Practice: How do we prioritize and measure adoption of EBIs across the networks of our clinical affiliate health systems and in community clinics?
Empowering Excellence in Translational Research: How do we establish "runways" from high school or college to a range of clinical and translational science careers including for underrepresented minorities?
"The RFA talks about working on the science of how we speed movement from basic discovery of an intervention, drug, or device to making an impact on public health," D'Aquila said. "We developed these four opportunities as a starting point, and we remain open to suggestions as we work with Institute leadership to make revisions on them — and other ideas — over the coming months."
D'Aquila used the final 20 minutes of the Town Hall to review and directly address feedback from participants.
Written by Roger Anderson