Staff Profile: Mary Beth Blocher, CCR Clinical Research Project Manager
When Mary Beth Blocher arrived in Streeterville four years ago, she couldn't have predicted that today she'd not only be thriving as a staff member at the NUCATS Institute, but also enrolled as a student at Northwestern.
"I began working as a Program Assistant in 2018 and was recently promoted to Clinical Research Project Manager," says Blocher. "And now, I'm also enrolled in the Graduate Certificate in Healthcare Industry program."
Blocher previously studied Healthcare Management and Policy at Indiana University.
She is currently engaged with three big NUCATS projects: managing new study submissions for the Center for Clinical Research (CCR), handling recharge billing for the CCR Regulatory, Finance, and Recruitment teams, and acting as the ClinicalTrials.gov Protocol Registration and Results System (PRS) Administrator.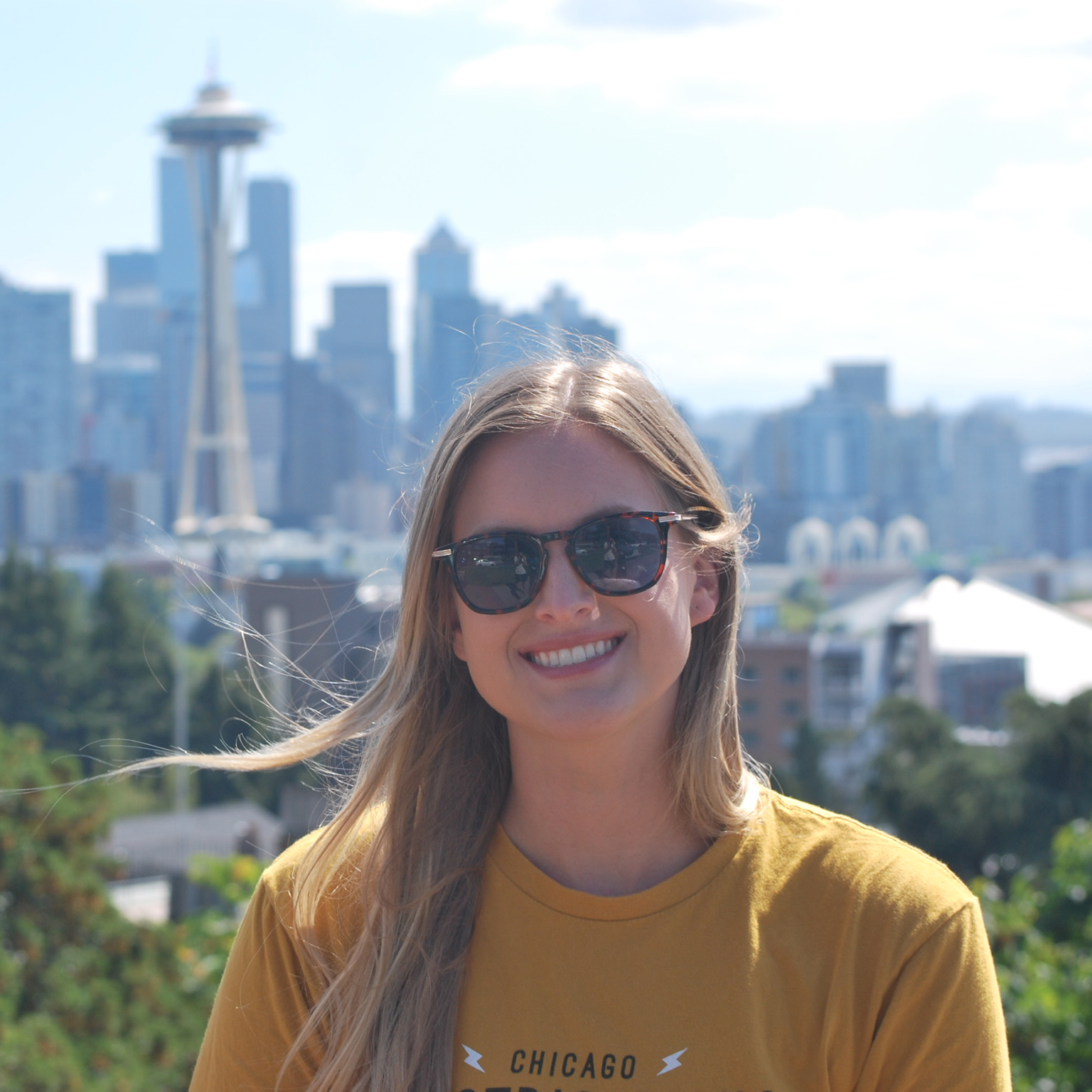 "In my ClinicalTrials.gov role, I am responsible for the process by which clinical trial information is released to the database on behalf of Northwestern," she says. "This process includes creating accounts for PRS users and editing and approving clinical trial records prior to initial release and after record updates." 
The role can at times be convoluted and challenging, but it brings Blocher a lot of joy. 
"It's amazing and exciting to work alongside Dave Johnson on the ClinicalTrials.gov PRS project. Together, we've set some high goals and managed our successes with metrics. The data that we have collected has improved over time, but I am excited to continue the work."
The project is not just critical, complex, and a huge source of excitement for Blocher; it's also a mystery for most employees — and that's something she aims to fix. 
"I wish people knew more about the ClinicalTrials.gov PRS," she says. "Over the last two years, I've realized how most people at the university are unsure of how to navigate the system. It's not all that intuitive, but I've been working closely with Dave Johnson to share some of the knowledge we've acquired together." 
Blocher has good reason to be hopeful.
"A report came out last year," she says, "from the Universities Allied for Essential Medicines that highlighted Northwestern University as a positive example of improving clinical trials reporting rates in ClinicalTrials.gov. In 2019, Northwestern reported a 30 percent success rate in results reporting. In 2021, we had 100 percent reporting compliance."
In her time away from campus, Blocher is often busy exploring.
"I'm planning an upcoming trip," she says, "to Cozumel in December! My boyfriend and I are hoping to go on a week-long scuba diving trip. I'll have to get certified over the next few months, which is really exciting."
"During the winter I usually just hunker down," she says, "but now that the weather is nice, I'm picking up some hobbies. I just started taking a pottery class in Logan Square. I also played beach volley at North Avenue beach in May and June."
Blocher says she adapted well to all that Chicago has to offer.
"I live with my boyfriend, Austin, in Logan Square. If anyone attends the Logan Square Farmers' Market over the summer, they will more than likely run into us or catch us sitting on our porch across the street. 
Blocher quickly fell in love with the neighborhood. 
"I live on one of the historic boulevards in Chicago," she says, "The architecture is so beautiful, and the neighbors are all so kind – many of them have lived here for decades. My front yard is also right across the street from the Farmer's Market, which makes my Sundays always so pleasant and enjoyable."
Written by Rosemary Sissel