Staff Profile: Christian Heck, Financial Coordinator
Fourteen flights. Six weeks. More than 20,000 miles traveled. It was a vacation itinerary born of a detail-oriented mind.
The opportunity to spend weeks abroad — exploring places from Indonesia to Costa Rica — has solidified Christian Heck's sense of adventure. Originally from St. Joseph, Illinois, today Heck lives in New East Side, a neighborhood just one mile south from Northwestern's Chicago campus.
As a financial coordinator at the NUCATS Institute's Center for Clinical Research, Heck creates and negotiates budgets for numerous clinical trials.
"This essentially means that I am responsible for getting the sponsor and the principal investigator for a given study to agree on how much the sponsor will pay for each study participant," says Heck. "The reality is that negotiating is not simply about the numbers. There are standard accepted practices, certain politics, and legal processes that are constantly at play when negotiating budgets at a place like Northwestern."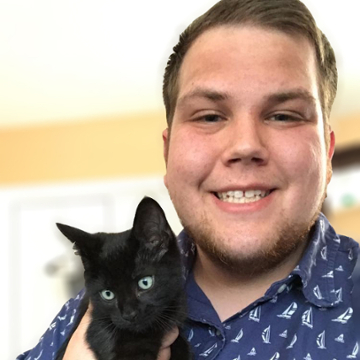 Having earned a bachelor's degree in Business Administration and a master's degree in Higher Education Administration at Southern Illinois University Edwardsville, Heck plans to take advantage of Northwestern's employee tuition benefit by applying for the University's evening and weekend MBA program. He would do so while continuing to provide critical support to study teams throughout the medical school.
"For me, there is great excitement whenever I am able to finalize a budget," says Heck, who has expanded his study portfolio from a handful of projects to 15-20 at a time. "Seeing my efforts from previous months' work materialize and move forward is always enjoyable."
When Heck isn't exploring budgetary considerations as part of NUCATS, he enjoys discovering Chicago's diverse collection of neighborhoods, the city's street festivals, and planning his next international adventure. 
"My last trip out of the country was when I traveled to Indonesia in 2018, which turned out to be a whirlwind six-week experience," says Heck. "I think that my favorite travel experience as a whole was my time in Costa Rica, where I spent two months living with a host family in a neighborhood in San Jose."
In the Central American nation, Heck was able to immerse himself in the culture and live as though he was a resident.
"I shopped for groceries, attended classes, and had the opportunity to visit several different regions of the country through weekend excursions.," he says.  I think that our visit to the Pacific Coast to stay at my host aunt's farm, experiencing small-town life abroad was my favorite individual experience."
In Chicago, Heck lives with his wizard cat, Lupin — named after the character in the Harry Potter series. He says that if anyone has advice about Northwestern's MBA program or application process, they can feel free to email him, or find him on the 11th floor of Rubloff.
Written by Roger Anderson