Study Finds Permanent Airway Damage an Important Factor in CRS
As a physician-scientist, Anju Peters, MD, has trained herself to perceive issues she sees in the clinic as potential research questions she might ask — and answer — in the lab. 
Recently, while taking care of individuals with chronic rhinosinusitis (CRS), Peters discovered that some patients have bronchitis damage in their lungs that can "lead to permanent damage." Bronchiectasis is characterized by permanent damage of the airways, and as many as 45 percent of bronchiectasis patients have CRS. The damage could be clearly seen on CAT or chest CT scans and patient notes often included complaints "of a cough with phlegm."
"The strange thing is that we actually found that this has been described elsewhere in the world, especially in Asia and Spain," says Peters, professor of Medicine in the Division of Allergy and Immunology and of Otolaryngology: Head and Neck Surgery. Peters graduated from University of Michigan Medical School and completed her residency and fellowship in the Division of Allergy-Immunology at Northwestern University Feinberg School of Medicine, where she currently serves as Director of Clinical Research in the Division and as Medical Director of the Northwestern Medicine Clinical Research Unit (CRU).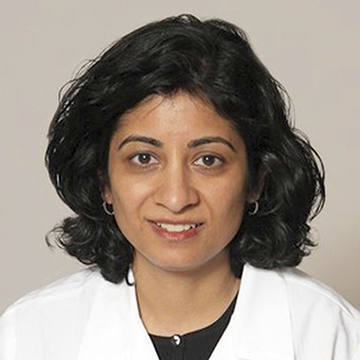 Although the condition Peters observed could pose a serious health threat, she says, "no one really started looking at the connections between CRS and bronchiectasis until us." And once she started looking, the Northwestern Medicine Enterprise Data Warehouse (NNEDW) offered a trove of data. 
Peters was lead author of "Prevalence of Bronchiectasis in Patients with Chronic Rhinosinusitis in a Tertiary Care Center" published last year in The Journal of Allergy and Clinical Immunology in Practice.
CRS is defined by "inflammation of the nose and sinuses, or the upper airway." The condition is fairly common — 6 to 12 percent of people have it — and it can be mild or associated with much more intense conditions. 
"CRS and severe asthma go hand in hand, as exacerbating the sinuses corresponds to more asthma, however the association between CRS and other lower respiratory conditions is not well-established." CRS can also be associated with more severe disease in the upper and lower airways, and even with chronic immunodeficiencies.
The Northwestern University Clinical and Translational Sciences (NUCATS) Institute was instrumental in facilitating the new line of research. NUCATS maintains the NMEDW, which hosts huge amounts of patient data available for synthesis in a wide variety of studies.

Peters previously studied connections between lower airway disease bronchiectasis and cystic fibrosis, but this work left a huge population out: 45 percent of people with lower airway disease bronchiectasis are non-cystic fibrosis patients.

Non-cystic fibrosis bronchiectasis and asthma have been studied together before, but Peters was determined to dig deeper. Ultimately, by utilizing the NMEDW and looking at CRS patients instead of asthma patients, her research team discovered a dramatic connection.

Bronchiectasis was significantly more common in CRS patients than in patients with asthma. Peters reinforced this connection by charting bronchiectasis CT scan reports, where she found that CT scan data from patients with CRS had more bronchiectasis than the CT scan data from asthmatic patients.

The discovery establishes a new paradigm. Whereas before, the research focus had circled around asthma and narrowed into one specific branch of bronchiectasis research, Peters opened it to all patients with CRS and demonstrated that the condition is more widespread than previously thought.

Peters believes the new lines of inquiry can "help with determining causes and producing new treatments," as well as figure out who these patients are. The long-term goal of the work is to lead to more effective implementation of pharmaceutical treatments and ultimately, new research that "will show what's causing the inflammation in the first place."

"The next step," she says, "is partnering with the Northwestern Sinus Center, before applying for new NIH funding while hoping that current funding is renewed so that the team can explore even larger datasets."

Written by Rosemary Sissel