Leena Mithal Named MSCI Co-Director
Leena B. Mithal, MD, MSCI, assistant professor of Pediatrics in the Division of Infectious Diseases, has been named co-director of the Master of Science in Clinical Investigation (MSCI) program. Mithal's clinical-translational research focuses on perinatal microbial exposures, host response, and the development of novel diagnostic and therapeutic tools for neonatal sepsis. She also studies the effects of SARS-CoV-2 in pregnancy and early life microbial exposures on long-term health outcomes. 
"I'm excited and filled with gratitude for the opportunity to be co-director of the MSCI program. I have benefited from many avenues of NUCATS support in my research career, including being an MSCI graduate myself," says Mithal. "I look forward to growing opportunities for tailored clinical-translational training, mentorship, collaboration, and camaraderie within the program."
The MSCI Program is part of the Northwestern University Clinical and Translational Sciences (NUCATS) Institute, which is supported in part by the National Institutes of Health's National Center for Advancing Translational Sciences (grant number UL1TR001422).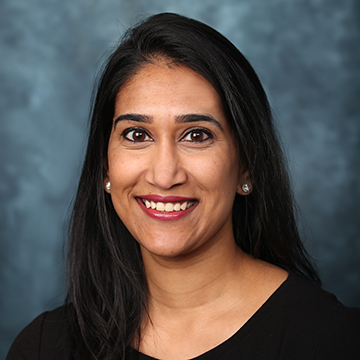 "We are delighted to have Leena join the NUCATS Center for Education and Career Development (CECD) team as co-director of the MSCI program. As an MSCI graduate, she is a true success story for our program," says CECD Co-director Ravi Kalhan, MD, MS. "She is an outstanding translational investigator and role model, and I am extremely excited about the impact she will undoubtedly have on the program and our students."
Mithal is a pediatric infectious diseases specialist with a research interest — and clinical expertise — in neonatal and congenital infections. She is passionate about understanding microbial exposures during pregnancy, perinatally, and in the first months of life and how the interaction of microbes (viruses, bacteria) and the developing immune system shape an infant's health trajectory. 
As co-director of the MSCI program, she will help produce clinical scientists who are skilled in clinical research techniques, competitive in seeking research support, and knowledgeable about the complex issues associated with conducting sound clinical research, particularly in translational and clinical epidemiologic patient-oriented studies.
"For both trainees and faculty members, the MSCI is a unique learning opportunity to help navigate the complex and competitive research environment," says Mithal. "The MSCI program offers a chance to formally delve into key concepts of clinical research, develop a practical statistical skillset, and gain working knowledge of advanced methods that can promote successful research, both independent and team science." 
Mithal graduated from Northwestern University Feinberg School of Medicine, then completed her residency at Baylor College of Medicine before returning to Northwestern for her pediatric infectious diseases fellowship. She has remained as faculty at Northwestern post-fellowship, earning her MSCI degree in 2016.
Written by Roger Anderson