Staff Profile: Matthew Baumann, Developer
As a developer at the Northwestern University Clinical and Translational Sciences (NUCATS) Institute, Matthew Baumann helps build and manage the Competitions and I2B2 tools.
"Writing computer code is a combination of problem solving and building," says Baumann. "First, we work with our customers to identify needs or opportunities for improvements in workflows. Then we architect a solution for how to meet that given set of requirements. Finally, we build out the product for the customer that solves their problem."
Born in Wisconsin and raised in Green Bay, Baumann currently lives in a historic home and is using his Northwestern tuition benefits for an MA in bioethics and medical humanities.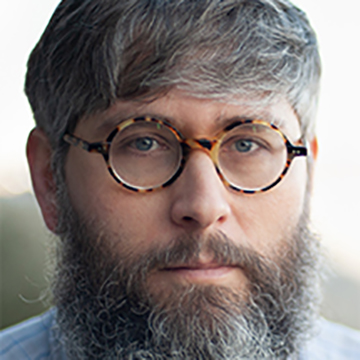 What is your educational background?
I have studied several disciplines. My first bachelor's degree was from St. Norbert College in biology and history. After that I pursued graduate school in classical archaeology and art history. A little later, I returned to school to do a BS/MS in computer science at Loyola University Chicago.
Please tell us about your professional background.
Odd jobs were the norm as I made my way through school, working in libraries, as an adjunct instructor or as a film extra. I also spent 10 summers working at the American School's excavations in the Athenian Agora. My job at the NUCATS Institute's Applied Research Informatics Group is my first programming job after school.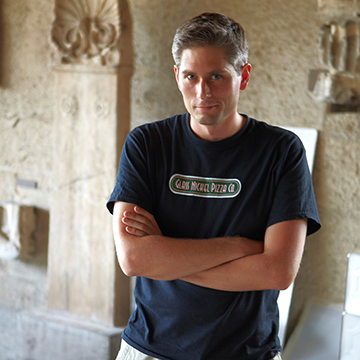 Why do you enjoy working at Northwestern?

Northwestern is one of the top research institutions in the U.S. and to achieve that takes a large collective effort. I am happy to be one piece in this 6,500-piece puzzle. Without any one of us, the picture is incomplete.
What exciting projects are you working on?

I primarily work on two projects for Northwestern. The first is Competitions, an open-source tool to run NIH-style peer review of competitions, pilot projects and research proposals in a single sign-on platform. The second project is maintaining Northwestern's instance of I2B2, a web-based tool that allows scientists, students, and staff to develop and run simple queries against a subset of deidentified data in the Northwestern Medicine Enterprise Data Warehouse (NMEDW). This gives users the ability to quickly determine the feasibility of conducting a study. 
What do you like to do in your spare time?
My partner and I purchased a landmarked house a few years ago and our renovation and restoration efforts keep us rather busy. I also enjoy birding when the weather and time allows.
This Q&A originally appeared in an edition of Northwestern University Feinberg School of Medicine Breakthroughs.