Peters Named Center for Clinical Research Director
Anju Peters, MD, MS, professor of Medicine in the Division of Allergy and Immunology, and of Otolaryngology Head and Neck Surgery, has been named director of the Northwestern University Clinical and Translational Sciences (NUCATS) Institute's Center for Clinical Research (CCR).
"I'm very excited to be taking on this new leadership role and am looking forward to working closely with NUCATS Director Rich D'Aquila, Keith Herzog, and the entire team at the CCR," says Peters. "I'm very eager to build on our strengths and embrace future challenges."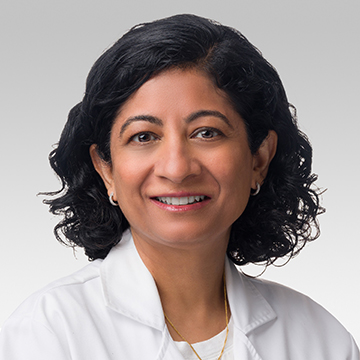 Peters most recently served as medical director of the Northwestern Medicine Clinical Research Unit. Her research focusses on chronic rhinosinusitis and its associated comorbidities, including allergic rhinitis, asthma, and immunodeficiencies. She has published extensively in these areas and is currently involved in translational research and clinical trials on asthma and chronic rhinosinusitis.  
"Dr. Peters is a highly experienced, innovative, and collaborative researcher, and we are thrilled to see her lead the NUCATS Center for Clinical Research as we seek to build an even more robust infrastructure to support inclusive and equitable clinical and translational science," says D'Aquila.
Peters graduated from the University of Michigan Medical School and completed her residency and fellowship in the Division of Allergy-Immunology at Northwestern University Feinberg School of Medicine. In 2016, she completed a Master in Clinical Investigation at Northwestern. Principal investigator of five ongoing studies, Peters has published nearly 100 times in peer-reviewed journals.
"The Center for Clinical Research is an important piece of the Northwestern research enterprise, as it helps clinical study teams from start to finish by offering support with budget and regulatory services as well as with the study visits in the Clinical Research Unit," says Peters. "While at the CRU I learned that collaboration and teamwork are key to success. I enjoyed working closely with Sherri Willoughby, manager of the CRU, and the clinical research nurse coordinators. Everyone in the CRU works together and is deeply committed to providing the best research experience for the study team and research participants."
Written by Roger Anderson