Improving the Lives of Others Through Research, Support, Advocacy
Daniel Mendez vividly recalls his sister approaching a woman on a sidewalk in Ukrainian Village. 
"They spoke for a bit and then my sister handed her money," he recalls. "I can still see that woman's face as she began crying and hugging my sister with tears of joy."
Growing up surrounded by Puerto Rican, Mexican and other Latin American influences, Mendez learned early on that a strong community can make each individual in it, better.
"Over the course of my career, I've always wanted to work in a field that helps others improve their livelihood," says Mendez. "Working in HIV prevention provided that opportunity."
He started that work in 2007 at CALOR and then worked at CORE center before becoming a health educator and then project manager at the Center on Halsted. In 2017, he accepted a position as program manager at Howard Brown Health before transitioning to Associate Director of Public Health Initiatives at the Puerto Rican Cultural Center (PRCC) in January 2020.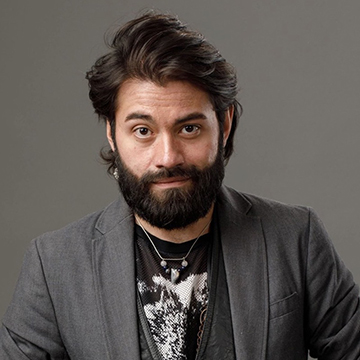 Mendez and the Puerto Rican Cultural Center are members of the NUCATS Institute's Alliance for Research in Chicagoland Communities (ARCC) Steering Committee.
"Starting just before the COVID shutdown was a massive challenge to say the least. When I began with the PRCC, it was a lot to take in. Apart from the standard acclimating of handbook policy and procedures, etc. it took a while to get acclimated to the work culture," says Mendez. "I like to say it takes about a year before one can fully understand every piece of an agency's programs, let alone the ones we directly supervise. I'd like to say it was all positive, but it was very stressful and, in the beginning, did have a negative impact on my own mental health. I do believe that is a feeling that many can resonate with, however. The positive from that was showing my ability to take on unknown territories in a new setting and still prove my ability to be quality-focused with my work ethic and integrity intact." 
Born and raised in Chicago's West Town neighborhood, Mendez has watched over the past three decades as rows of Latino- and Hispanic-owned businesses have been replaced with fine dining restaurants and increased rents.
"West Town has experienced massive gentrification, essentially eradicating the history of what I knew as my childhood neighborhood," he says. "One of the best parts about the work we do at the Puerto Rican Cultural Center is that we make sure that we are welcoming to all who walk through our doors. We do have grants that specifically target highly vulnerable populations, particularly those vulnerable to HIV, however, we never stop the work we've been doing with the entire community." 
The PRCC is a community-based, grassroots, educational, health, and cultural organization with several locations in Chicago's Humboldt Park neighborhood.
"The community of Humboldt Park is one that is very tight knit but is also being challenged by gentrification and the rising cost of rent," Mendez says. 
The Northwestern University Clinical and Translational Sciences (NUCATS) Institute recently discussed with Mendez his work at the PRCC, how he perceives community-engaged research, and what he thinks investigators can do to more positively integrate themselves and their research in neighborhoods. Learn more from Mendez from his contributions to the ARCC Intro to Community-Engaged Research video.
Can you tell us about the organization and communities you serve?
At the PRCC, our programs and services are aimed at reducing/eliminating social, economic, and health disparities which are rooted in systemic racism, and generational trauma. There is a great need to increase health awareness and education and understanding about the importance of research that will eventually improve the health and social well-being of community residents. PRCC's main service area is Greater Humboldt Park and adjacent communities. The programs I oversee help with the community overall.
What do you think researchers can do to learn more about the communities you serve?
Stop being so sterile in clinical language and expectations and begin participating in community events — and no, not participating to gather data. Talk, speak with local folks, have a genuine conversation with people about their experiences. At the same time, remove a portion of your professional barrier and open-up. Speak about why you were called to do research. Community wants to hear honesty and genuine responses. It's surprising how this rarely happens, and when it does, it's only in forums that are designed in exclusive spaces. I've been a part of a multitude of community events and researchers are present for data collection, and this is understandable as this collection of information is vital in their work. However, community members can see past this and can identify when someone is genuinely interested in the community members they are working with. Dialogue can offer a rare moment to gather uninhibited feedback. 
What inspires you to do this work?
Early on, my work with clients opened the validity that risk was not just about lack of education on sexual health or substance use, but rather the fact that positive impact only made sense when we explore the total person. When we start looking at their past experiences with relationships, religion, family, sex, etc. it helped me guide my process in a different direction. We need to discuss the positives and the traumas that have impacted how people value themselves. It's doing this that opened the doors to explore how our work requires continued evolution and innovation in how we offer service for our communities.\
Can you tell us a little more about how your life has influenced your work?
I was diagnosed with major depressive disorder a few years ago. Before this diagnosis I already knew I had depression, but the amount of time it took to learn this about myself, accept it, and live with it was one of the hardest things I've had to do.
Over the last few years, I've heard more folks talk about how we need to place more awareness on mental health. This is beautiful and definitely important. However, the challenge continues when I find myself hearing people talk about mental health with little to zero understanding on what this topic means. LIke asking someone, "How are you?" but not pausing for the response, or an empty conversation on today's weather. Mental health such as severe depression can't be seen, usually, and that disguise is often because someone doesn't want to be vulnerable. Everybody wants to be strong, as everyone deserves a chance to find their strength. 
I'm certain this is the contributing factor to why I dive so heavily in my work. It's also the reason why I work differently. I know what it's like to be self-destructive. I know what it's like to be on and off medication and question my own self-sanity. I know what it's like to not be looked at as someone with worth because I don't have it all together. 
Life is challenging, and as courageous as saying this may sound, owning up to my diagnosis is terrifying. But it's my reality. It's what is leading me down a path to continue to look at the strengths and talents of everyone I am around. Community work is about being human and embracing however that human looks - because everyone deserves to live their humanity with strength, decency, resilience and power. 
How did your family and early childhood shape you?
Mentioning my father, he was always someone who would also pay for someone's groceries if they didn't have enough money. My mother was also one who donated and wanted to make sure people were taken care of — I even remember seeing her give the jacket off her back for someone in need. In my early teens I also began attending a church where the pastor became my first mentor. This was the kickstarter to break me out of my shell and begin volunteering and even mentoring others. I learned by example from my mentor by volunteering alongside, as his work was dedicated to the inner-city with anti-violence marches, youth retreats, missions to clean up the neighborhoods in Humboldt Park, providing meals and clothing to the homeless on a weekly basis, and helping with special events. 
How are you making sure that you can offer others the support that they need?
I make it a goal to take every training my staff takes. I do this because I cannot help my staff if I don't know the details that go into the work they do. While this takes a lot of time, it also helps when advocating for staff to really flesh out what their work looks like. This also helps to structure focus on best practices that not only sustain our programs, but to explore ways to update and innovate. This said, it was essential especially with the shutdown to make sure that I was ready and available to step in and help.  
One last important mention is the restructuring of the office space for our community. While still in a state of evolution, the space was changed to have a caring and friendly environment. This includes the addition of greenery, new office furniture, and the rearrangement of spaces for a more inviting waiting space. We've also included snacks, beverages, and fresh coffee every morning for our clients. The atmosphere of a space can have a strong impact on a person's mood, and it can already be a struggle for clients to ask for help with housing, energy assistance, food, etc. Most places offering community services can be perceived as lackluster and unfriendly. This change is designed to make clients feel welcomed, appreciated, cared for, and more importantly, a space they can breathe and relax while getting the services they need and deserve. 
Is there anything else that you would like to share?
In all the research that goes on within communities, there are often those folks who we consider stakeholders. This is because of their knowledge and expertise amongst the communities they thrive in. Often these folks don't have the full academia experience, let alone a degree. That said, when it comes to the fruition of research into funded positions, these community members, who often helped pave the way, are overlooked. This pattern of alienating individuals from performing work or applying for positions because they do not have a degree is destructive. I've seen plenty of gatekeepers decide to remove these barriers in their job description, while others have raised the bar even higher to become much more exclusive.  
The positions I am discussing are entry-level and intermediate level that require degrees simply to prove to the employer that. A person knows how to multitask, with little regard to the strong hard and soft skills carried by many individuals. This school of thought is antiquated and can be unreasonable and needs to be addressed when academic research institutions connect with program officers and program directors on how their hiring needs to have more purpose than simply filling a vacant role. 
Having hired community members over the last several years has fueled my passion to help other colleagues expand on their expertise to grow as employees. This has evolved to be a strong focus for myself in the direction of supervision, especially given that hiring from the community requires sensitivity, compassion, and tactful skills to help people find their strengths. This type of work affects our community in several ways, positively impacting our colleagues and community members along the way.
If you are interested in learning more or partnering with the PRCC, please email Executive Director Jose Lopez.
Written by Roger Anderson