KIDS Advisory Board Role Evolves Passion for Biomedical Engineering
Nicholas Lagunas knew he could help.
Having traveled more than 4,000 miles, the 18-year-old Southside Chicago native wasn't going to let a flight cancellation and later than expected arrival in Lyon, France, hamper his ability to contribute to important dialogues at the 2022 International Children's Advisory Network (iCAN) Summit.
"I loved that Jumo Health asked students at the summit to help develop age-appropriate language for healthcare resources to be deployed throughout the world," says Lagunas, who just began his freshman year at Northwestern University. "I appreciated the ability to provide direct feedback to Jumo staff working on a number of projects, including one meant to make it easier for someone to remember to take their insulin and another that would encourage eligible patients to participate in clinical trials by educating, as well as humanizing, the process. 
iCAN is a worldwide consortium of children's advisory organizations, known as Kids Impacting Disease Through Science (KIDS) and Young Persons Advisory Groups. Student-led work, which takes place throughout the world, is designed to provide a voice for children and families in medicine, research, and innovation.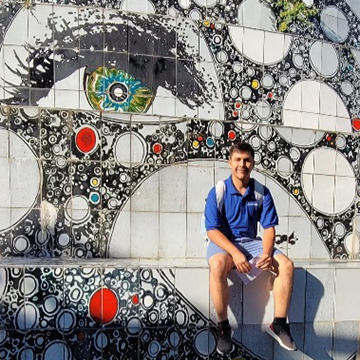 Lagunas has been part of the KIDS Illinois Advisory Board program at Walter Payton College Preparatory School for the past four years. Started in 2015 to foster and develop interest in careers in science, research, and healthcare and to provide youth perspectives to academic and industry researchers on the design and development of pediatric research studies, the KIDS Illinois Advisory Board has proven to be a reliable group of youth advisors. Both the advisory board and iCAN attendance is supported in part by the Northwestern University Clinical and Translational Sciences Institute and the Ann & Robert H. Lurie Children's Hospital of Chicago.
"Getting the chance to learn directly from doctors and medical professional was an eye-opening experience," says Lagunas, who plans to pursue a career in biomedical engineering. "My interest in medical research was particularly sparked during a visit to the Stanley Manne Children's Research Institute, where we toured a lab working with zebrafish and were told how they might help solve genetic abnormalities in young children. 
Lagunas was a varsity baseball player at Walter Payton who says he has been fortunate to travel abroad to South Korea and Chile in the past. While in France, he enjoyed exploring cultural landmarks like the Cathédrale Saint-Jean-Baptiste, Musée Cinéma et Miniature, and Parc de la Tête d'Or, a vibrant park filled with gardens and wildlife. He also enjoyed the opportunity to celebrate Bastille Day in Lyon.
Written by Roger Anderson