NUCATS, Chicago State Partner to Explore Impacts of Pharmacogenetics
There's a presumption that significant pharmacogenetic discoveries — findings from studies that examine the role of the genome in drug response — would apply to everyone. But because most research is conducted with people of European ancestry, the science isn't always robust.
That plight is one of the topics that Minoli Perera, PharmD, PhD, associate professor of Pharmacology, explored during the keynote address at the April 6 symposium, Science and the City: improving health equity through pharmacogenomics. The event was the second in a series jointly supported and developed by the Northwestern University Clinical and Translational Sciences (NUCATS) Institute and co-developed by the Chicago State University College of Pharmacy, Department of Pharmaceutical Sciences, and Northwestern University Feinberg School of Medicine Department of Pharmacology. 
The symposia are the first initiative to further a mission that has been jointly developed by leaders at both universities: to foster cross-institution collaborations in research, training, and education in biomedical sciences between Chicago State and Feinberg School of Medicine and to accelerate the development of a diverse and inclusive biomedical workforce. 
"Minoli Perera is an exemplar of how a PharmD, PhD-trained scientist can make a huge difference by applying a deep understanding of clinical practice as well as expertise in research," says Susanna McColley, MD, NUCATS Associate Clinical Director for Child Health, Scientific Director for Interdisciplinary Research Partnerships at Stanley Manne Children's Research Institute and professor of Pediatrics in the Division of Pulmonary and Sleep Medicine. "Her talk clearly inspired the students in attendance.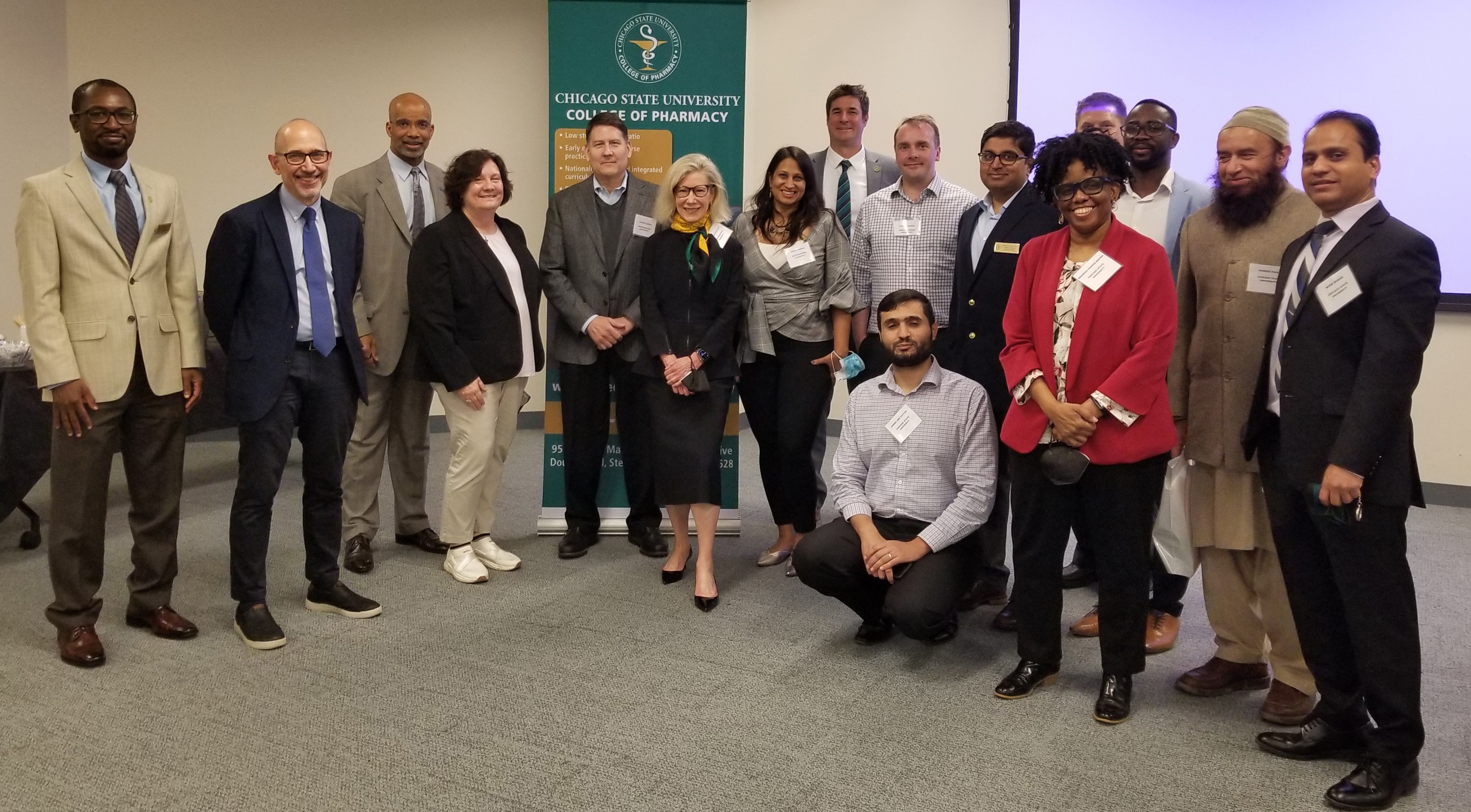 NUCATS Institute Director Richard D'Aquila, MD, second from left, joins organizers and presenters at the April 6 Science in the City symposium.
McColley; Clyde Yancy, MD, MSc, professor of Medicine in the Division of Cardiology and NUCATS associate director of diversity and inclusion; Leslie Roundtree, DHS, MBA, interim provost and vice president academic affairs at Chicago State; and the deans of the Colleges of Pharmacy, Arts and Sciences, and Health Sciences are leading the development and deployment of the long-term strategy.  
"The conversations we had in early April provided a look at how health inequities can be unintentionally built into research designs and inclusion criteria," says Matthew Fete, PhD, dean and professor of Pharmaceutical Sciences at Chicago State. "Attendees learned about the importance of a comprehensive genetic pool, genetically significant cardiotoxicities in African American cancer survivors, and genes important for inflammatory processes and metabolic disorders. As is always the case, science is disseminated to inform future research."
McColley sees great synergy between Chicago State's College of Pharmacy and Feinberg's Department of Pharmacology led by Alfred George, MD. The Feinberg Department of Pharmacology has significant research funding and impact, and a large, multidisciplinary, highly collaborative faculty. Chicago State's Department of Pharmaceutical Sciences, led by Michael Danquah, PhD, has an excellent faculty with significant research accomplishments, creating exciting opportunities for future research collaborations.  
"Feinberg also aims to increase diversity of its students, trainees, and faculty and Chicago State is a designated minority-serving institution, with approximately 70% of students identifying as Black/African American," says McColley, who is also director of the NUCATS Institute's Multidisciplinary Training Program in Child and Adolescent Health (TL1). "Our TL1 summer Science Immersion Program has provided opportunities for PharmD students to work in translational research settings for several years, introducing students to research careers and fostering professional development. Extending this success to create new opportunities, including enhanced pathways from PharmD to PhD, is an overarching goal for this and future symposia and other activities."
In addition to Perera, other speakers during the Science and the City symposium, included:
Mohd Shahid, MPharm, PhD, associate professor of Pharmaceutical Sciences, Chicago State University
Paul Burridge, PhD, assistant professor of Pharmacology, Northwestern University Feinberg School of Medicine
Hafeez Faridi, PhD, assistant professor of Pharmaceutical Sciences, Chicago State University
Symposium logistics were provided by Jaime Ziegler from the NUCATS Center for Education and Career Development, and Zaneta Jackson and Tajmah Cooper-Pettis from the College of Pharmacy at Chicago State.
NUCATS is supported in part by National Institutes of Health's National Center for Advancing Translational Sciences, grant numbers UL1TR001422 and TL1TR001423.
Written by Roger Anderson