Dementia Treatment Aided by Communication Partner, Study Finds
Internet-based telehealth with individual partners assisting dementia patients improved patient communication confidence, according to a new study led by Emily Rogalski, PhD, associate director of the Mesulam Center for Cognitive Neurology and Alzheimer Disease.
The pilot study, published in The Journals of Gerontology: Series B, examined the feasibility of an intervention delivered via telehealth for patients with Primary Progressive Aphasia (PPA), a form of rare dementia that affects a person's language skills. There is no cure for the disease, which was first identified in 1982 by Mesulam Center Director Marsel Mesulam, MD.
The Mesulam Center is trailblazing breakthrough technologies to treat little-understood and rare forms of dementia. PPA is a form of dementia that causes language decline — a loss of words rather than memory as is seen in Alzheimer's dementia. The Mesulam Center specializes in aging and dementia research and is one of the few places in the world where individuals suffering from PPA can receive a diagnosis and care.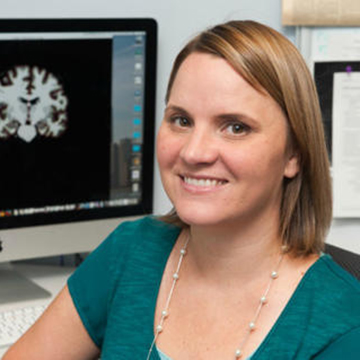 "Our research started as observational studies," says Rogalski, a Northwestern University Clinical and Translational Sciences Institute KL2 scholar alumna and professor of Psychiatry and Behavioral Sciences. "We actively invite individuals with PPA to enroll in longitudinal studies that they remain a part of throughout their life." At the time of death, research participants are asked to donate their brain so that researchers can continue to understand the disease.
Because PPA is less common, it can be hard for those suffering from the disease to get a diagnosis and those who manage to get correctly diagnosed are spread throughout the world. As an NIH-funded center, the team at Northwestern works with individuals from the United States and Canada, and has the ability to fly in patients for their observational research over a few days; however, speech therapy treatment is not conducive to this travel as it occurs over weeks rather than days.
"So we used telemedicine through video chat for the intervention," says Rogalski. "We also developed a web-application to serve as a hub for the  intervention." The web-application is personalized for the participant and includes links for video chat sessions, recordings of past sessions, to-do lists for takeaways from the session, an achievements page, and build in home exercises. Participants enrolled from across the world.
The new discovery focused on a vital part of this telemedicine program: communication partners. Though there is no known cure for PPA, and the degeneration of proteins that causes it are not yet entirely understood, this research contributes to knowledge about therapeutic techniques for individuals who are diagnosed with the disease.
Throughout the study, close family members or friends participated alongside those diagnosed with PPA. They attended sessions with speech language therapists and the person with PPA, where they learned communication techniques and ways to support the patient.
The pilot study showed the partner program as a successful form of support, and the intervention is now being tested in a clinical trial. "The clinical trial is the first randomized controlled trial of speech and language intervention for people with PPA. We are excited to have the chance to improve the level of evidence for interventions in PPA," Rogalski says. "If successful, the next phase of this project will involve an implementation trial, where we will examine usefulness of the intervention in real world clinical settings.
"The goal of this intervention is to help participants develop strategies to engage in life in a way that is meaningful to them," Rogalski says. "This program is designed to give people the confidence and skills to make language more accessible and to maximize their quality of life."
Written by Rosemary Sissel