NUCATS Members Highlight Local Efforts, Build National Connections During ACTS Conference
The Association for Clinical and Translational Science recently held its annual meeting in Chicago, returning to an in-person format for the first time in three years.
Clinical and translational researchers, as well as University staff from throughout the nation, participated in three days of networking and educational sessions from April 20 to 22. Numerous members of the Northwestern University Clinical and Translational Sciences (NUCATS) Institute presented on topics ranging from community-engaged research to thriving Chicagoland collaborations.
"The benefits of working with our colleagues at the other Chicagoland CTSA hubs can't be overstated," said NUCATS Institute KL2 Director Leena Sharma, MD.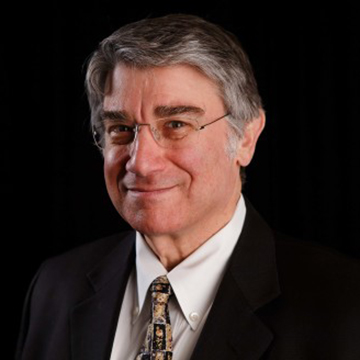 Sharma was part of a multi-part presentation highlighting four integral collaborations between Chicago's three Clinical and Translational Science Awards (CTSA) Program hubs, as well as the Chicago Consortium for Community Engagement (C3), which includes the Chicago Department of Public Health. 
"I think our Chicagoland collaborations have worked so well because they addressed issues of mutual importance to all three hubs, and because we deliberately decided to find ways to make them work," said Julian Solway, director of the Institute for Translational Medicine (ITM). The ITM is a partnership between the University of Chicago and Rush in collaboration with Advocate Aurora Health, the Illinois Institute of Technology (Illinois Tech), Loyola University Chicago, and NorthShore University HealthSystem. "There are many other areas in which our three hubs can collaborate, and the ITM looks forward to working with NUCATS and UIC CCTS to turn these opportunities into reality."
The Northwestern-based Alliance for Research in Chicagoland Communities (ARCC) and its partners took part in a pair of panel sessions during Translational Science 2022.
Making Research Accessible Through Community Media: Chicago Community, Media & Research Partnershippresented by Jhmira Alexander (Public Narrative), Jesus Del Toro (La Raza), Maudlyne Ihejirika (Chicago Sun-Times, Chicago Journalists Association, National Association of Black Journalists-Chicago Chapter), Yazmin Dominguez (Chicago Independent Media Alliance, Chicago Reader), Jen Brown (ARCC) 
Anti-Racist Community-Engaged Research: Supporting Capacity for Researchers & Research Partnerships presented by ARCC Steering Committee Members Karou Wantanabe (Cambodian Association of Illinois), Jen Martinez (Northwestern), Tara Gill(Northwestern/Lurie Children's), Jen Brown (ARCC)
The session on ant-racist community-engaged research considered the importance of acknowledging, understanding, and addressing the history and legacy of research and healthcare that contribute to health inequities and the underrepresentation of Black Indigenous People of Color in research participation and leadership. Since 2018, ARCC community and academic partners have been working to ensure community research partnerships are more racially equitable in their process, practice, and impact. In 2020-21, ARCC piloted a Community Academic Anti Racist Learning Collaborative with 30 community and academic partners engaging together in questioning, learning, and addressing how racism operates in research institutions, i.e. policies, culture, structures and how community academic partnerships can apply a racial equity lens to their research and partnership process.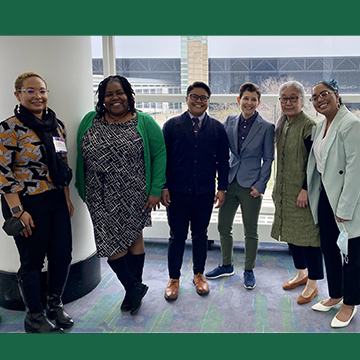 "Eliminating racial bias is essential for the integrity of today's research," said Wantanabe. "The development of this programming did not happen overnight. It was an intentional effort to talk about bias and racism in research, started with an ARCC Steering Committee meeting in 2015.
"We are not sharing our journey today because we have it figured out; this is a messy, evolutional process that we thought would be helpful and bring hope to your own messy learning processes."  
ARCC co-founder and co-director Jen Brown took part in both panel discussions and
joined Endeleo Institute Executive Director Melvin Thompson, an ARCC Steering Committee member and the inaugural Community Partner on the NUCATS External Advisory Committee, on Saturday during the CTSA Collaboration & Engagement Enterprise Committee meeting. The pair discussed "Community Leadership in Transforming the Research Enterprise."
Many other Northwestern staff and faculty took part in Translational Science 2022, including
Jody Ciolino, PhD, who works with the NUCATS Institute's Biostatistics Collaboration Center and the Northwestern University Data Analysis and Coordinating Center, and Alexandra de Paz, PhD, a member of the NUCATS Institute's Center for Translational Innovation, Keith Herzog, NUCATS administrator, and Laura Rasmussen-Torvik, PhD, who presented a poster on the success of the NUCATS Institute's Research Design Analysis Methods Program (RAMP). Since 2015, the RAMP mentors program has been offered to KL2 scholars at Northwestern. In 2019, the program was expanded to include recipients of NIH diversity supplements (investigator career stage). The program provides each scholar with individualized, hands-on methodologic mentoring, with the goals of helping scholars achieve independent funding and building interdisciplinary research teams. 
"Many of our RAMP mentor pairs have published multiple papers together and participated together on successful R01 applications," says Rasmussen-Torvik. "The participants reported really positive experiences with the program and RAMP mentees reported higher confidence in their ability to select appropriate, up-to-date, and novel research methods when compared to other faculty on K awards."
Ciolino was part of a panel that discussed clinical trial Data and Safety Monitoring Boards (DSMB). Ciolino, a NUCATS member and Associate Professor of Preventive Medicine in the Division of Biostatistics, offered a statistician's perspective on DSMBs.
Herzog presented on the Research Operations and Administration special interest group, which he leads. The special interest group, which is composed of administrators from multiple national NIH consortia, focused discussions on four key topics: advancing diversity, equity, and inclusion goals for the clinical research workforce; implementing effective strategies for retaining clinical research staff; fostering a diverse, equitable, and inclusive work environment for CTSA hub staff; and sharing examples of cross-institutional collaborations and partnerships.
De Paz was a panelist at the Scholar Career Pathways Reception held April 19, where she talked to trainees at the ACTS conference about her career path.
"It was extremely rewarding to speak with PhD candidates and postdoctoral fellows in the translational sciences who were exploring alternative career paths outside of academia," said de Paz. "As someone who was recently in this position, I took the opportunity to share my own diverse background and non-standard career trajectory with the trainees in hopes of demystifying the process."
Written by Roger Anderson