Acosta Named Director of Clinical Research Career Pathway Programs
Ana Maria Acosta, PhD, has been named Director of the newly established Clinical Research Career Pathway Programs at the Northwestern University Clinical and Translational Sciences Institute.
Acosta is an associate professor of Physical Therapy and Human Movement Sciences and associate chair for graduate research education within the department. The broad focus of her research lab is to characterize the mechanisms underlying the movement impairments of the arm, leg and trunk following brain injury due to stroke and devise new robotics-based interventions to address these impairments.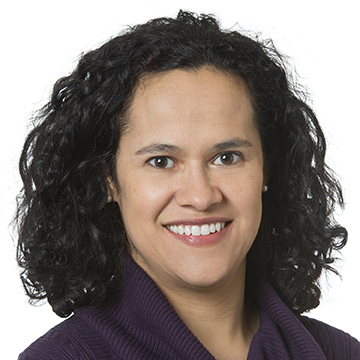 "I am honored and excited to be appointed to this new role with NUCATS for many reasons. The first is that I have been working on issues of diversity, equity, and inclusion focused on graduate students for a while. This opportunity is a recognition of that work, and affirmation that it is important here at Northwestern and beyond in the biomedical research community," says Acosta. "Secondly, this appointment will give me the opportunity to learn more about the amazing work happening at NUCATS and Feinberg and be able to contribute to making improvements and creating new programs that will help us move the needle when it comes to representation of individuals from marginalized communities in the biomedical workforce."  
In her new role, Acosta will work to catalyze, facilitate, and improve existing programs as they relate to diversity, equity, and inclusion, and will leverage NUCATS resources to provide opportunities and pathways for individuals from marginalized backgrounds to learn about, and succeed in, careers as staff members in clinical and translational research at all levels. One focus will be on developing new pathways to clinical research coordinator positions, as either a career start or a transition to more education.
"We can learn from those programs that have already been successful in recruiting and retaining individuals from marginalized backgrounds and apply some of the same elements to Northwestern's biomedical and clinical research workforce," says Acosta. "In addition, I am working on creating new initiatives that will support and enhance existing programs and be exclusively targeted to individuals from minoritized backgrounds."
Often, programs that are open to all are considered to benefit everyone equally. However, research has shown that individuals from minoritized groups encounter barriers that often prevent them from benefitting equally from these initiatives, or even from joining.
"I hope to identify and break those obstacles by providing spaces that acknowledge said barriers and coach individuals as they navigate the system to guide their path to success."
Acosta completed her postdoctoral fellowship at Northwestern in 2003 before joining the faculty the same year.
"Ana Maria has a long history at the institution of promoting diversity and inclusion among students and staff. Her institutional knowledge, combined with her creativity, can inform the development of innovative programs to attract individuals who have been traditionally underrepresented in science and medicine," says Mercedes Carnethon, PhD, co-director of the NUCATS Institute's Center for Education and Career Development. "We look forward to her fresh perspectives on how we can be leaders in this space."
Written by Roger Anderson