The ACT Network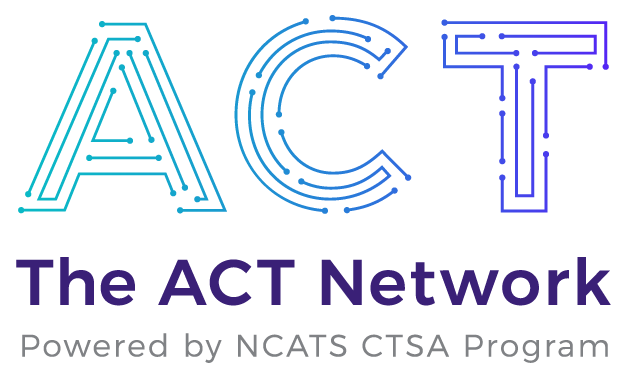 The ACT Network is a real-time platform allowing researchers to explore and validate feasibility for clinical studies across many of the NCATS Clinical and Translational Science Award (CTSA) sites, from their desktops. ACT helps researchers design and complete clinical studies and is secure, HIPAA-compliant and IRB-approved.
Explore patient populations: Learn about your patient population in depth and in real time, from your desktop.
Check feasibility of clinical studies: Iteratively test and refine inclusion and exclusion criteria to confirm the feasibility of your clinical study.
Find partner sites: Search for patient cohorts across the CTSA network to identify potential partners for multi-site studies.
Demonstrate feasibility: Access easy-to-download results for use in funding proposals and IRB submissions to demonstrate the feasibility of your clinical study.
ACT was developed collaboratively by members of NCATS' Clinical and Translational Science Award (CTSA) consortium, with funding from the NIH National Center for Advancing Translational Sciences. The operations of the Northwestern Medicine node of the ACT Network is approved by NU IRB protocol# STU00200519.
To request access to the ACT Network, click here. To learn more about the network, how to use it, and if it is right for you, click here.
If you already have access to the ACT Network, login here (you must be on the FSM network or VPN to gain access). For all other questions, email i2b2@northwestern.edu.
Regular Maintenance
Our connection to the ACT Network requires regular maintenance which we align with the ACT Network's weekly scheduled maintenance time (Tuesdays at 3 p.m. until Wednesdays at 6 a.m. CT). Users should expect the system to be offline during this time and should be aware that maintenance can be in advance of or extend beyond this window depending on the scope of work.