KL2 Scholar Alan Zhou Investigates Skin Cancer Ecosystem to Improve Diagnosis, Treatment
For Alan Zhou, MD, FAAD, the body's surface often holds clues on what might be taking place within.
As a member of the 2019 cohort of Multidisciplinary Career Development Program (KL2) Scholars, Zhou continues his pursuit to better understand the role of the microbiome in cutaneous T cell lymphomas to develop new ways to better diagnose and treat skin lymphomas and cancers in general.
The Northwestern University Clinical and Translational Sciences (NUCATS) Institute's prestigious KL2 Program offers two years of dedicated mentorship, education, and career development opportunities while conducting translational, multidisciplinary, clinical research.
Zhou, an assistant professor of Dermatology, grew up in Miami, but decided that earning a degree in biochemical sciences at Harvard University was worth the cold Boston winters. He then attended medical school at Duke University before traveling to Europe to earn his master's degree in medical anthropology from Oxford.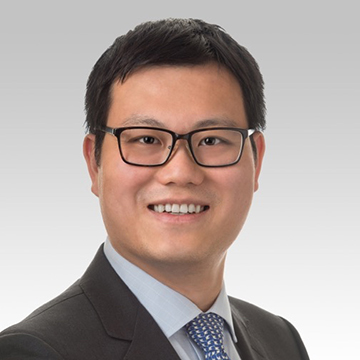 Throughout his education, Zhou became increasingly fascinated by dermatology because of its many unexplored links to the body's immune system. "Skin provides a great window into the body's functions. In many ways, it's an amazing platform for research because skin is easily biopsied and sampled and improvement or worsening of disease can be easily observed even with the naked eye," he explains. 
Zhou says that he is immensely grateful for the research opportunities that the KL2 program has given him.
"Northwestern has one the largest cutaneous lymphoma specialty clinics in the country along with a very robust research program and world-renowned authorities in the field, which allows me the unique opportunity to study this disease in rigorous detail. With the mentorship and microbiome expertise of Patrick Seed, MD, PhD, Associate Chief Research Officer for Basic Science in the Department of Pediatrics, and mentorship of Joan Guitart, MD, Chief of Dermatopathology and former president of the International Society for Cutaneous Lymphoma, we have the tools and approaches to tackle some very unique and important research questions."
Zhou has already collected thousands of swab samples from patients, which he has used to better understand the composition of bacterial organisms in this patient population.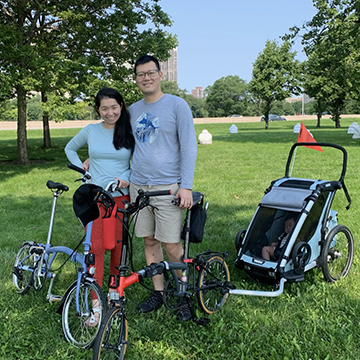 "The KL2 program has granted me the opportunity to develop this research project, learn the tools to understand the data, and to become a better physician-scientist," Zhou says. "I also learned how to conduct clinical trials and navigate the regulatory process tied to these trials. As my research focuses on skin lymphomas, I have benefited from the resources and mentorship of outstanding faculty in the Department of Dermatology, Lurie Cancer Center, Lurie Children's Hospital, NUCATS, and KL2 program." 
In addition to seeing patients and conducting research, Zhou is also enrolled in the NUCATS Institute's Master of Science in Clinical Investigation (MSCI) Program. When he isn't searching for a cure for skin cancer, treating patients, or studying for his master's degree, he enjoys outdoor activities like biking and hiking with his family.
Above all, Zhou is grateful that he has the opportunity to benefit his patients' lives.
"I chose to work in medicine because not only do I get to engage in scientific discoveries, but I also get to help improve people's lives in the process."
Written by Morgan Frost