VanWagner Named Co-Director of Northwestern's MSCI Program
Lisa VanWagner, MD, MSc, assistant professor of Medicine in the Division of Gastroenterology and Hepatology and Preventive Medicine in the Division of Epidemiology, has been named co-director of the Master of Science in Clinical Investigation (MSCI) program. 
"I am honored to be selected to fill this important role with NUCATS and excited to work alongside Dr. Ravi Kalhan and the NUCATS team," says VanWagner, whose laboratory utilizes human population-based approaches, large electronic health record data analysis, and health services research methods to define and characterize cardiovascular disease risk prediction, prevention, and treatment approaches in patients with chronic liver disease.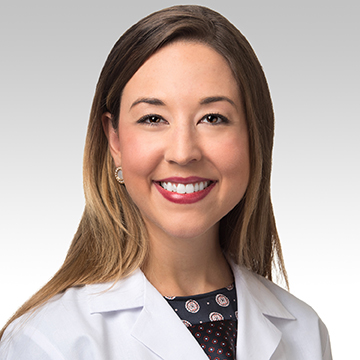 A 2011 graduate of the MSCI program, VanWagner has experienced first-hand the impact that formal training in clinical investigation can have on a career in clinical research.
"The MSCI program was a crucial starting point in my training as an independent clinician investigator and I am thrilled to be able to shape the program and directly mentor and guide students," says VanWagner, who started her MSCI coursework as a third-year internal medicine resident.
Sponsored by the Northwestern University Clinical and Translational Sciences (NUCATS) Institute, the MSCI program is designed to provide critical groundwork in research skills for clinician investigators by offering formal coursework in clinical research design, research ethics, statistical methodology, and grant writing, each considered essential to preparing the next generation of clinician scientists. The program is also tailored with the clinician in mind as evening coursework and a part-time schedule make it feasible for busy clinician scientists to complete the course load.
VanWagner is board certified in Internal Medicine, Gastroenterology and Hepatology and Transplant Hepatology. She received her medical degree from the University of Virginia School of Medicine in 2007 before completing her internship and residency in Internal Medicine at Northwestern University Feinberg School of Medicine in 2010. She then served as Chief Medical Resident from 2010-2011. VanWagner completed her Gastroenterology and Hepatology training at Northwestern in 2014 followed by a Transplant Hepatology fellowship in 2015 before joining Northwestern's faculty.
"I could not imagine a person better suited for this role," says NUCATS Center for Education and Career Development Co-director Ravi Kalhan, MD, MS, professor of Medicine in the Division of Pulmonary and Critical Care and Preventive Medicine in the Division of Epidemiology, as well as MSCI director. "Dr. VanWagner is an MSCI graduate and previous NUCATS KL2 Scholar who exemplifies the manner in which a clinician scientist can thrive at Northwestern and beyond."
VanWagner has more than 100 peer-reviewed publications. Her lab recently derived and validated the first liver-transplant specific cardiovascular disease (CVD) risk assessment tool for clinical use. The team also was the first to establish that nonalcoholic fatty liver disease (NAFLD) is independently related to increased poor CVD outcomes after liver transplantation. 
"I have been a NUCATS super user since returning to Northwestern in 2007 and am thrilled to be a part of the NUCATS team," says VanWagner. "I would not be where I am today without the support of NUCATS and I am honored for the opportunity to give back by serving in this important role."