Pergande Joins 2021 TL1 Cohort
Melissa Pergande, PhD, has joined Northwestern University's TL1 Multidisciplinary Training Program in Child and Adolescent Health.
As part of the 2021 cohort, Pergande will take part in a novel program that seeks to promote interactions among both mentors and trainees in pediatrics and engineering in order to encourage creative thinking and new approaches in child health research. Nearly every Northwestern University Clinical and Translational Sciences (NUCATS) Institute TL1 appointee who has completed their postdoctoral training, remains engaged in clinical and translational science — two are in industry, and nine have accepted faculty positions at Northwestern or other institutions.
Pergande is trained in biological mass spectrometry, an analytical tool in biological research that can be used to characterize biomolecules. Born and raised in Wisconsin, Pergande completed her Bachelor's and Master's degrees at the University of Wisconsin-Milwaukee before earning her doctoral degree at the University of Illinois at Chicago.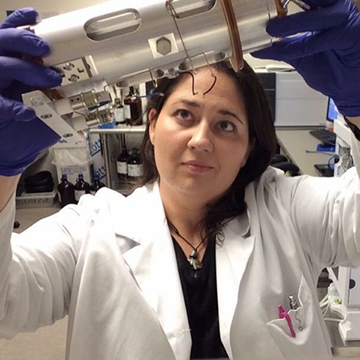 "While completing my doctoral work at UIC under the mentorship of Professor Stephanie Cologna, I developed an interest in working on rare, pediatric neurodegenerative disorders for which there is no FDA approved therapy," says Pergande. 
As a TL1 Fellow, Pergande will work with Puneet Opal MD, PhD, and Neil Kelleher, PhD, to explore the extent to which neurofilament accumulation — a type of protein associated with neurodegenerative disorders — causes giant axonal neuropathy, or GAN, and to develop a potential therapeutic for patients with the rare disease.
GAN is a genetic disorder in children that often results in a clumsy gait and a loss of peripheral strength and sensation, with rapid escalation to cognitive defects, seizures, brainstem dysfunction, and ultimately death. There is no known cure.
Pergande will rely on proteomics to dissect how GAN degrades neurofilaments and likely other proteins.
"I am very excited and grateful for this fellowship opportunity," Pergande says. "I think the TL1 fellowship will most definitely have a large impact on my research career and I look forward to the excellent mentorship opportunities that come with being trained by both physicians and scientists." 
Written by Roger Anderson