Staff Profile: Letty Vega, Senior User Support Specialist
Leticia "Letty" Vega is a data-saving hero.
For more than eight years she has helped develop the support model for vital resources at the Northwestern University Clinical and Translational Sciences (NUCATS) Institute. 
As an Applied Research Informatics Group senior user support specialist, Vega was a key member in creating the App Support Team that is now a thriving and vital part of the Institute's research support efforts. She's especially proud of her work with both REDCap, a software that makes it a lot easier to manage data collection in an electronic format, and Study Tracker, which is designed to improve the efficiency, safety, security of subject research, and study management.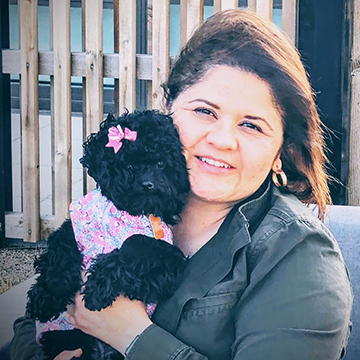 "It's been amazing to see how much the REDCap community has grown — from less than 100 users when I started to more than 3,500 users today — and how much Study Tracker has developed and improved for the research community." Vega says. "It's almost like seeing your baby growing and thriving."
She feels especially rewarded by her work with ARIG because of the supportive ways the group enriches the research community. 
"It feels so good to know that I am able to help study team members better understand the how-tos of the app/CTMS which consequently make their work lives better and easier," she says. "I also really like knowing that my work contributes in some way to the betterment of the world via medical research." 
Vega says her passion for the users she supports is strengthened by the dynamic collaboration that takes place within the NUCATS Institute.
"There is a lot of love that goes into the work here," Vega says. "If you think about the thousands of projects and studies and how every single one is different in design, intent, and management, our team is always kept on its toes trying to manage what is currently going on while defining ways to make it even better for the future. It's multitasking team work at its best."
At the beginning of her career, Vega didn't have any inclination that she wanted to go into research, but fell in love with the field after working in the corporate sector and then real estate. Happenstance led her to UIC, where she worked on a teen food and fitness research study. 
"That study is what drew me into research and led me to the Application Support Specialist role at NUCATS," Vega recounts.
Today, she works with a wide range of researchers throughout Northwestern, "educating and supporting users about REDCap and Study Tracker. "I also develop training materials, manage system features improvement, and plan community outreach efforts for both applications.
"I assist investigators and study teams by educating them about Feinberg policy compliance measures within the systems," she says. "One of the most recent significant impacts study teams have seen is that with eConsent implementation; it's a great way to facilitate enrollment for studies."
During her downtime, Vega likes cooking, pilates, hiking, planning trips, and hanging with her family. She is also a very do-it-yourself type. "I'm pretty handy," she says, "so I spend a lot of my free time making improvements to my house and gardening."
Written by Rosemary Sissel