Rebuilding Public Health in the Age of COVID
In March 2020, Nicholas Soulakis, PhD, packed up his office at Northwestern and went home. Less than 24 hours later, the Illinois Department of Public Health (IDPH) called and recruited him as an epidemiologist. Since receiving that call, Soulakis has been working almost nonstop fighting COVID-19, first at the state, and now city level as Deputy Commissioner of Chicago's Department of Public Health (CDPH).
"In the end, I decided that where my impact would be the greatest was the city of Chicago, because the position was really about not only informatics, but where epidemiology meets informatics, which is exactly what I do," says Soulakis.
Soulakis is currently on a leave of absence from his role as Director of Data Services at the Northwestern University Clinical and Translational Sciences (NUCATS) Institute, however, he has continued to teach as an assistant professor at the Feinberg School of Medicine.
While at IDPH, Soulakis helped train a cohort of about a dozen other epidemiologists to manage the contact tracing system that they worked to create. While he originally began working at IDPH as an epidemiologist, Soulakis eventually moved to a unit where he could play a stronger role in the state's informatics efforts. Earlier this year he joined CDPH to consult on high-level informatics, but his  position soon became codified as the Chief Public Health Informatics Officer, and he began working to facilitate data sharing and information across CDPH.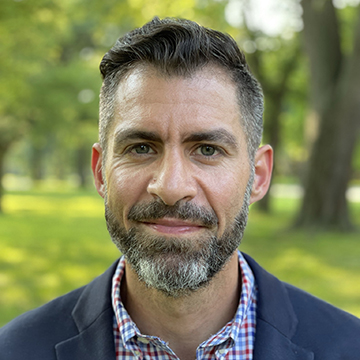 "It's really the beginning of a whole new bureau that didn't exist before," says Soulakis. "There was a small informatics bureau of a few people and a small IT bureau of a few people, but there was no coherent shared service across all of CDPH ."
The walls of Soulakis's office at CDPH are now covered with sticky notes and organizational diagrams. Since the beginning of the pandemic he has been working with a tight-knit team battling COVID, often putting in extreme hours just to stay afloat.
"The weeks and weeks and weeks of seemingly endless 80-hour work schedules; it starts to get to you," says Soulakis. "And the highs can be high: sometimes you're just hysterically happy for no reason.  And the lows can be incredibly low."
Soulakis's journey to CDPH has been far from linear. He entered higher education as a religious studies major at the University of Pittsburgh, but he later switched to epidemiology after conducting research on the relationship between religion and health.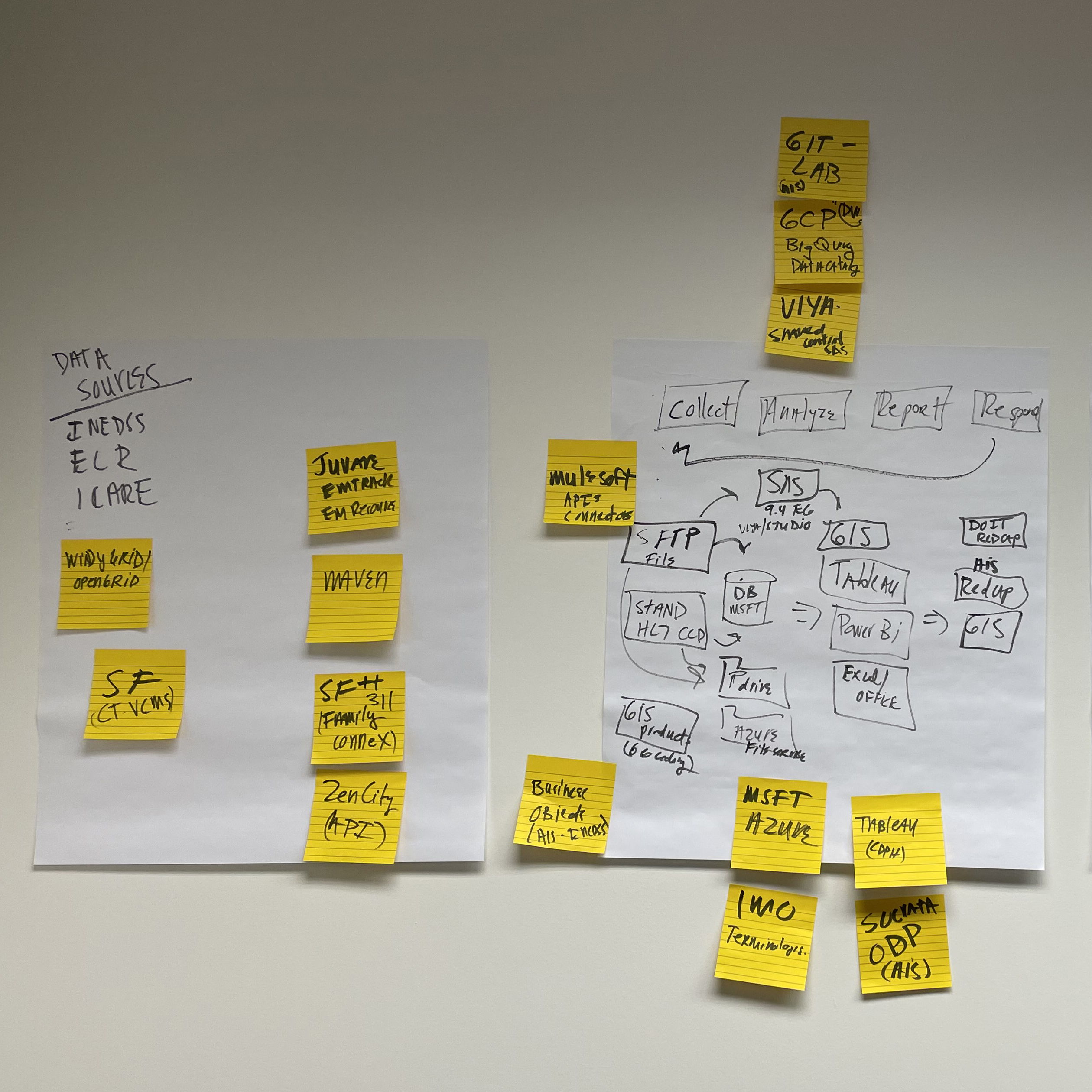 "You're really training to meet the needs of a population, whether it's your parish, your flock, whatever you want to call it," says Soulakis, on his change in majors. "And I think it was the feeling that I wanted to serve the people around me. But I hadn't been able to really articulate exactly what that meant, and I think there was something about public health that crystallized that for me."
While COVID has been a nonstop public health effort for Soulakis, he has also taken time to reflect on a bright point in his career, which happened after he left the University of Pittsburgh with his graduate degree. 
"It took me 15 years to graduate. I had to work my entire degree so I only took one or two classes a quarter. It took me over a decade to write my dissertation, I believe. I had a family, I had responsibilities. 
He and his family packed up their car shortly after his graduation ceremony and drove to Chicago, where Soulakis had accepted a position as an assistant professor of Preventive Medicine at Northwestern University Feinberg School of Medicine. 
"Honestly, my career high was my first day of being an assistant professor at Feinberg," he says. "Justin Starren, my division chief, showed me my office, I sat down, and I was a Northwestern professor. I called my sister and I cried like a baby. It was just such a feeling of fulfillment."
Soulakis says the bond he has with his team has helped him through this grueling time. He's even training for a marathon with a CDPH colleague, an outlet for him to work on his physical health. And despite the long hours that Soulakis is logging at CDPH, he says that being in the classroom has helped his mental health.
"I needed to think about something else besides COVID," he says. "I needed to do something meaningful that wasn't COVID. And so I taught continuously, and I brought what I was learning into the classroom. I teach public health informatics, so it was very reasonable and appropriate to do so. That really grounded me."
While COVID has strained public health infrastructures, Soulakis says now is an opportune time to rebuild the system. The whirlwind changes that COVID brought have made everyone rethink public health, creating a "blank slate." 
"This is very much the nascent stage of reorganizing the health department, so it was actually the perfect time," says Soulakis. "There's a substantial investment, there's a will to change and get better. There's a political will that views CDPH's work positively and wants to see us get better. So the stars have kind of aligned for a very impactful change."
Written by Olivia Lloyd