Staff Profile: Sharnia Lashley, Senior Regulatory Coordinator
Sharnia Lashley, MS, senior regulatory coordinator at the Northwestern University Clinical and Translational Sciences (NUCATS) Institute's Center for Clinical Research, helps scientists and study teams navigate regulatory aspects of research. This Q&A originally appeared in the September issue of the medical school's Breakthroughs newsletter.
Where are you originally from?
I am from Phoenix, Illinois.
What is your educational background?
I have a bachelor's degree in biology and a master's degree in clinical research administration.
Please tell us about your professional background.
I have spent several years working in data collection, data quality and data preparation in social science research. I managed multiple studies, most of them government-funded. The primary study I managed was an annual U.S. research doctorate educational census study. As manager, I oversaw data collection and data preparation, teams, and activities for medium and large-scale studies. I also contributed to study questionnaire design revisions and major revisions to the survey instrument as well as authored sections of the annual report. I also worked on two studies people may be familiar with: Florida Ballots after the 2000 presidential election and the National Tragedy Study after the 9/11 attacks.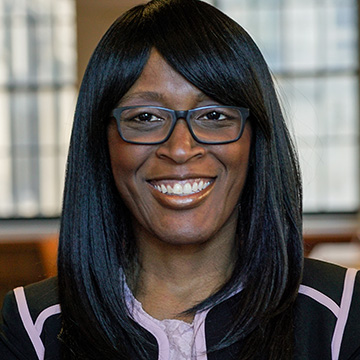 Why do you enjoy working at Northwestern?
I enjoy social and clinical research tremendously and Northwestern is an ideal place to contribute to research in numerous specialty areas. My work at Northwestern has allowed me to collaborate with a great group of individuals within and across departments.
How do you help scientists and research students at the medical school?
I help scientists and study teams navigate regulatory aspects of research, handling various FDA submissions and generating documents and submissions for local and external institutional review boards. 
What is your favorite part of the job?
I am a magnet for "first-time" encounters — one of my favorite parts of the job is encountering new study formats or scenarios and navigating the related new regulatory processes, in addition to assisting and guiding others.
What exciting projects are you working on?
I currently provide regulatory and FDA support for two COVID-19 studies, in addition to various other exciting studies.
What do you like to do in your spare time?
I like to read and try new plant-based recipes.