Northwestern Named Network of the National Library of Medicine Evaluation Center
Northwestern University's Galter Health Sciences Library and Learning Center has been named the National Evaluation Center for the Network of the National Library of Medicine (NNLM). The five-year, $4 million award — U24LM013751 — serves to further establish Galter as a national leader in academic medicine.
"I'm honored and excited for our team to be able to contribute to NNLM's goals to advance the progress of medicine and improve public health," says Galter Director Kristi Holmes, PhD, professor of Preventive Medicine and Medical Education. Situated within the Northwestern University Clinical and Translational Sciences (NUCATS) Institute, Galter is the only health services library embedded within a CTSA hub. "Our team is uniquely poised to help champion the important mission of the NNLM. Northwestern's leadership and commitment to good data practices, community and capacity building, and participatory evaluation will help ensure inclusive, equitable, and data-driven approaches to continuous improvement and meaningful impact."
The NNLM Evaluation Center is charged with coordinating assessment of the impact, efficacy, and value of NNLM activities, services, and resources — with special focus on assessing network member engagement and understanding its impact on people who experience health disparities or are underrepresented in biomedical research.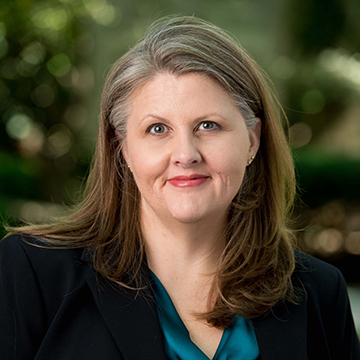 Since its original authorization by Congress in 1965, the NNLM has worked to equalize and enhance access to health information and data throughout the United States. The NNLM carries out its mission through seven Regional Medical Libraries and approximately 8,000-member organizations located throughout the United States. The National Library of Medicine is one of the 27 institutes and centers of the National Institutes of Health and is the world's largest biomedical library, advancing open science and scholarship by making biomedical information more findable, accessible, interoperable, and reusable and helping create a more diverse and data-skilled workforce. The NNLM enables researchers, clinicians, and the public to translate a vast wealth of biomedical information into better health.
Holmes credits a number of Northwestern centers and institutes, as well as a core group of individuals for their leadership on the NNLM Evaluation Center. "This work resonates strongly across many meaningful partnerships at Northwestern," says Holmes. "We are absolutely delighted and committed to advancing this critical work."
Sara Gonzales, data librarian at Galter Library, serves as assistant director of the Center where she will contribute logistical and data expertise to the project;
Keith Herzog, administrative director of the NUCATS Institute, will lead the Evaluation and Continuous Improvement Core;
Karen Gutzman, head of the Research Assessment and Communication Department and the Metrics and Impact Core at Galter Library, leads the Dissemination and Impact Core;
Gregory Phillips II, assistant professor of Medical Social Sciences and Preventive Medicine and director of the Evaluation, Data Integration, and Technical Assistance (EDIT) program in the Institute for Sexual and Gender Minority Health and Wellbeing leads the Community and Capacity Building Core. Phillips will be joined by Leah Neubauer, assistant professor of Preventive Medicine in the Division of Public Health Practice, as Capacity Building Sub-Core Lead, and Amy Johnson, research assistant Professor of Pediatrics in the Division of Adolescent Medicine, as Community Assessment Sub-Core lead;
Matthew Carson, senior research data scientist and head of the Digital Systems Department at Galter Library, will be the director of Data and Technology for the program.
The NNLM Evaluation Center is a collaborative effort, with leadership from numerous groups represented on its advisory council, in addition to prominent national leaders in program evaluation, libraries, health disparities and health equity, data science, rural and medically underserved areas, and social change. Local advisors include the Institute for Public Health and Medicine (IPHAM) Center for Health Equity Transformation, IPHAM Center for Community Health, IPHAM Center for Applied Health Research on Aging, IPHAM Center for Education in Health Sciences, Institute for Augmented Intelligence in Medicine, Center for Behavioral Intervention Technologies, Biostatistics Collaboration Center, and Ann & Robert H. Lurie Children's Hospital of Chicago.
The Galter Health Sciences Library and Learning Center is supported in part by the National Institutes of Health's National Center for Advancing Translational Sciences, Grant Number UL1TR001422.
Written by Roger Anderson