Former KL2 Scholar Jean-Jacques Making Impact Investigating Healthcare Disparities
In a world filled with opportunity, "isms" all too frequently determine — or hinder — an individual's success, says Muriel Jean-Jacques.
"The lack of diversity in academic medicine, for instance, is not due to a dearth of talent or ability in underrepresented groups, rather it's due to decades of structural and overt racism, classism, sexism, heterosexism, and many other -isms and unconscious biases," says Jean-Jacques, MD, assistant professor of Medicine and associate vice chair for Diversity, Equity and Inclusion in the Department of Medicine. "This lack of diversity is to the detriment of everyone — not just those of us who are from communities or social groups that have been underrepresented."
Earlier this year, Jean-Jacques took part in Northwestern's DREAM Week, an annual celebration of the life and legacy of Dr. Martin Luther King Jr., discussing her research and how institutionalized racism affects many aspects of American life.
Part of the Northwestern University Clinical and Translational Sciences (NUCATS) Institute KL2 Scholar cohort in 2010, Jean-Jacques has since established a research career investigating the effectiveness of programs that aim to reduce disparities in healthcare experiences and healthcare outcomes. She is particularly interested in patients from communities that have long experienced the worst health outcomes — people who are considered racial and ethnic minorities, limited English speakers, uninsured or insured through Medicaid, LQBTQ, have (dis)ability status, and communities that have faced long-term economic and social disinvestment and now experience high levels of economic hardship. She also works to identify effective ways to widely disseminate effective programs and interventions.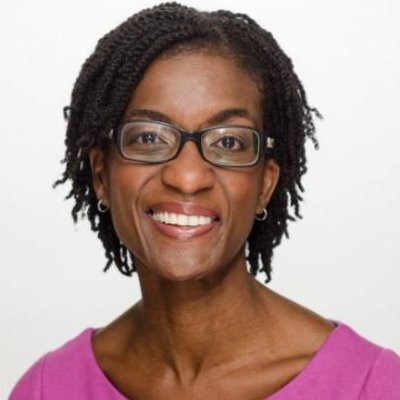 The Multidisciplinary Career Development Program (KL2) supports early-career faculty at Northwestern. The program is designed to train a diverse workforce of investigators to drive future innovation and implement effective clinical and translational research. Nearly every NUCATS KL2 Scholar remains engaged in clinical and translational science research and collectively the 32 scholars have contributed to more than 1,000 scholarly publications.
In January, Jean-Jacques wrote an editorial published in JAMA that highlights concerns in prioritizing all U.S. adults aged 65 and older for COVID-19 vaccinations. What seems like a simple and straightforward approach to reduce the number of deaths in the U.S., she wrote, quickly becomes problematic if adopted without explicit attention to promoting health equity.
"In most cases thus far, the process of making an appointment to be vaccinated requires substantial time, technology, and trust," says Jean-Jacques. "These are three resources that are unequally distributed in much of the U.S. population." 
Jean-Jacques credits the three years she spent as a KL2 Scholar with helping her to create a secondary mentorship group that allowed her to overcome the adversity of losing her primary advisor.
"The thing that I enjoyed the most was learning from my peer KL2 Scholars in small group sessions, gaining feedback on my project, and developing a support structure to push forward despite challenges," says Jean-Jacques, who was awarded what is now known as a Northwestern Primary Care Practice-Based Research Program (NP3) award seed grant, in 2009.
The preliminary data from her KL2 project created an opportunity for Jean-Jacques to compete successfully for funding through the R mechanism at the National Institutes of Health, as well as for foundation funding, she says.
In Her Own Words: Muriel Jean-Jacques
In recent years, Jean-Jacques has become increasingly visible locally and nationally. At the 2020 Virtual Society of General Internal Medicine Midwest Regional Meeting, she received the organization's award for Advocacy and Community Service. She also received a 2020 John X. Thomas, Jr. Best Teachers of Feinberg Award from Northwestern, and has also been featured in numerous articles regarding the Johnson & Johnson vaccine rollout.
"I work with many homebound seniors who love the idea of having someone come to their home once — or if they have to leave their home, they only have to leave once — and then they're protected," Jean-Jacques told NBC News. "So, there are many people who would be very happy with a one-shot vaccine."
Jean-Jacques is a general internist at Northwestern Medicine with a clinical interest in patients with complicated medical and psychosocial histories. She is also working to build more effective and egalitarian relationships with community-based practices, safety-net practices, and other community partners to advance research and clinical care
"If we want to have the best teams to tackle the toughest issues in medicine, including but not limited to health inequities, we need to have a diversity of experiences and backgrounds in medicine, academic medicine, and leadership," says Jean-Jacques. "Diversity and inclusion are important, not only because they are the right principles to support, but also because a body of evidence shows that diverse research teams are more effective, innovative, and successful."
NUCATS is committed to creating and nurturing a diverse and inclusive community. It is the Institute's mission to value the whole KL2 Scholar — past, present, and future. Scholars from diverse backgrounds and life experiences are strongly encouraged to apply. The current RFA deadline is April 12. The KL2 program is supported by the National Center for Advancing Translational Sciences, Grant Number KL2TR001424.
Written by Roger Anderson