Kristi Holmes Named to National Library of Medicine Board of Regents
Kristi Holmes, PhD, director of the Galter Health Sciences Library and Learning Center at Northwestern University Feinberg School of Medicine, has been appointed to the Board of Regents for the National Library of Medicine (NLM). 
The appointment marks the first time a Northwestern faculty member has joined the prestigious NLM Board, which is charged with advising and guiding the Library as it manages the global flow of medical information. The NLM Board of Regents is comprised of 10 appointed and nine ex officio members who serve as the advisory body to the secretary of Health and Human Services (HHS); the assistant secretary for health at HHS; the director of the National Institutes of Health; and the director of NLM on all important aspects of policy regarding the National Library of Medicine. Holmes will serve through August 3, 2024.
"I am thrilled to serve NLM in this new role. This appointment is a great personal honor for me, as NLM has been an important partner throughout my career — as a graduate student, as a scientist and educator, and in support of our mission at Galter Library," says Holmes, professor of Preventive Medicine in the Division of Health and Biomedical Informatics and Medical Education, as well as a member of the Northwestern University Clinical and Translational Sciences (NUCATS) Institute. "Equitable access to knowledge is critical for the effective translation of research discoveries to improved health of our communities. We are grateful for NLM's incredible wealth of resources and to the many dedicated professionals who make them possible."
NLM provides critical resources and services that the academic community depends upon daily for research, education, patient care, and public health such as PubMed, the extensive collection of databases and tools at the National Center for Biotechnology information; health and biomedical vocabularies and standards used in electronic health records; and user-friendly online health information resources for patients and their advocates, such as MedlinePlus.
The Northwestern community also benefits greatly from other resources at NLM, including the NLM digital collections and the traveling exhibitions program by the History of Medicine Division at NLM, providing our campus with unique opportunities to explore and discuss the intersection of history, society, and medicine on campus.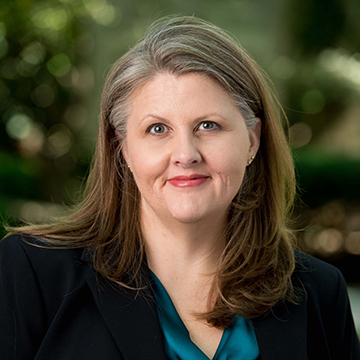 Holmes, a bioinformaticist with a background in research information systems, digital scholarship, and research impact, has led Galter Library since 2014. Six months prior to her arrival, Galter became part of the NUCATS Institute in the first of several initiatives to strengthen and expand the library's capabilities in support of clinical care and research. 
NLM is part of the National Institutes of Health (NIH) and is located on the NIH campus in Bethesda, Maryland. NLM has been a center of information innovation since its founding in 1836. The world's largest biomedical library, NLM maintains and makes available a vast print collection and produces electronic information resources on a wide range of topics that are searched billions of times each year by millions of people around the globe. It also supports and conducts research, development, and training in biomedical informatics and health information technology. In addition, the Library coordinates a 6,500-member Network of the National Library of Medicine that promotes and provides access to health information in communities throughout the United States.
"We have a world-class health sciences library, made possible by our innovative and dedicated team, and the support and partnership of our Feinberg community," says Holmes. "We welcome you to contact us to learn more about Galter Library, including our extensive specialized services, classes and consulting offerings, and a wide range of other resources and services, including those made possible by the NLM. We look forward to working with you."
The NUCATS Institute and Galter Library are supported, in part, by the National Institutes of Health's National Center for Advancing Translational Sciences, Grant Number UL1TR001422.