Akono Receives Prestigious da Vinci Award
Ange-Therese Akono, PhD, assistant professor of Civil and Environmental Engineering, has received the 2021 EMI Leonardo da Vinci Award from the Engineering Mechanics Institute of the American Society of Civil Engineers (ASCE).
The annual award recognizes outstanding young investigators for promising groundbreaking developments in the field of engineering mechanics and mechanical sciences as they relate to civil engineering more broadly.
Last year, Akono received funding from the National Center for Advancing Translational Sciences (NCATS) diversity supplement program to focus her research career on regenerative engineering. 
The ASCE recognized Akono's contributions at the intersection of fracture mechanics and nanotechnology. She is credited with discovering novel methods to probe the fracture toughness at the nanoscale, and for inspiring a new generation of nanoscientists and fracture mechanics experts.
"As an early career investigator, I am thrilled to be honored by the ASCE in this way," says Akono. "The da Vinci Award is a major milestone that punctuates years of arduous and often painstaking work."
Fracture is a pervasive phenomenon that Akono is fascinated in pursuing from various angles. In health science, one example of fracture is breaking a bone. In civil engineering, cracks are of great concern in thing like walls, foundations, and pavements.
"Fracture is intrinsically a multi-scale phenomenon," Akono says. "Before my work, most methods to quantify the fracture resistance focused on the macroscopic length scale, whereas fundamental length scales, such as micrometer and below, were reserved to qualitative observation."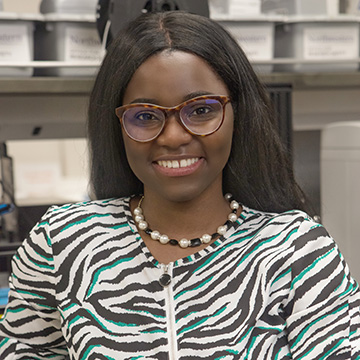 This gap in length-scale between the actual phenomenon of fracture and measurement methods led to a knowledge gap in understanding of the determinants of fracture resistance. Akono's work has leveraged nanotechnology and fundamental mechanics of materials and has made it possible for the first time to probe the fracture resistance at the nanoscale and the micrometer length scales. 
"This breakthrough has pushed our understanding of fracture in complex materials, and has also accelerated the discovery of fracture-resistant materials, with applications in civil engineering, materials science, and biomedical engineering," says Akono.
Akono was previously recognized by the ASCE as a New Faces of Civil Engineering Honoree. She has also been named a National Center for Supercomputing Applications Fellow and Searle Faculty Fellow.
Akono credits the NCATS diversity supplement with empowering her to launch a career as a biomaterial scientist focusing on integrating fracture mechanics, nanotechnology, and tissue regenerative engineering.
"My goal is to design fracture-resistant bone scaffolds to promote bone regeneration in large bone defects," says Akono.
Bone is a fascinating material that is both tough and strong. Traditionally, in materials design, strong and tough are opposite attributes. Yet, bone combines both attributes effortlessly thanks to a unique architecture and composition. The current unmet challenge in bone scaffold design is to reproduce this balance between strength and toughness through composite materials design. Current clinical bone scaffolds are either too brittle and unsuitable for load-bearing applications, or too ductile, leading to bone stress shielding, which hinders healing and recovery.
"In my research laboratory, we collaborate with clinicians to discover new materials and new biomimetic synthetic scaffolds to accelerate healing and recovery and large bone defects," Akono says.
The CTSA diversity supplement application deadline is November 1, however, the process to identify applicants and ensure that their submissions are competitive begins in July. Each NIH funding agency has its own deadline and specific guidelines for diversity supplements. Learn more, here. 
The NUCATS Institute is supported, in part, by the National Institutes of Health's National Center for Advancing Translational Sciences, Grant Number UL1TR001422.
Written by Roger Anderson