Staying in Contact: As COVID-19 Spreads, a Team of Health Investigators Attempts to Track Every Case in Illinois
With COVID-19 cases trending upward as Labor Day approached, Gov. J.B. Pritzker wanted to know how bars and restaurants were contributing to the pandemic in Illinois. The governor's team knew that the state's Division of Health Protection could get him the answers he needed.  
"You grow accustomed to the rhythm of press conferences and communicating results to the public. The Governor appreciates having facts on hand when delivering the COVID updates."  says Nicholas Soulakis, PhD, an epidemiologist at the Illinois Department of Public Health's (IDPH) Division of Health Protection who has helped lead contact tracing efforts in the state. Soulakis, an assistant professor of Preventive Medicine in the Divisions of Health and Biomedical Informatics and Epidemiology, and Director of Data Science Services for NUCATS, has been on leave from Northwestern University since April.
As it turned out, in the 60 days preceding a September 2 media event with Pritzker and Soulakis, nearly 1,500 COVID-19 cases were traced back to contact that took place with an infected individual at a bar or restaurant in Illinois. 
This data point is the simplified result of an arduous contact tracing process led by health departments across the state, coordinated by the IDPH. It is a process that typically begins with an hour-long interview with anyone who has contracted the virus. These conversations involve about 85 questions to help local public health department staff identify everyone a person has had close contact with during the time when they may have been infectious.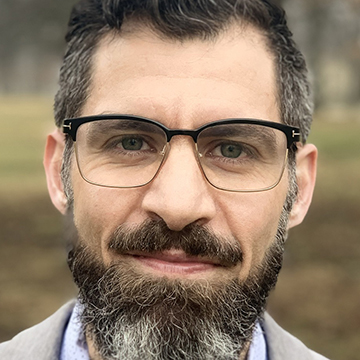 "If you are a good contact tracer you essentially jump inside of a person's life for 60 minutes," says Soulakis. "When a case is assigned, you really have no idea where it will lead until you pick up the phone. After you've identified the individuals that a person may have come into contact with, a contact tracer next calls everyone on that list. It can be exhausting and sometimes an entire day can be spent tracing a single case."
Contact tracing has been a staple of infectious disease control for about 100 years. In Illinois, cases of COVID-19 are assigned to tracers at one of 97 local health departments. A major difference between the current pandemic and sexually transmitted diseases, which are also traced, is the need to make sure a person is not unknowingly spreading the disease.
About halfway through his six-month tenure at IDPH, Soulakis, an expert in epidemiological surveillance, helped implement new software to track the pandemic.
"We needed flexible and optimized processes with modern informatics infrastructure because we run reports for the governor, IDPH director, local health departments, and media outlets when they submit requests," says Soulakis.
On October 13, the death toll from COVID-19 in Illinois surpassed 9,000 as public health officials announced 2,851 new cases. The total number of COVID-19 cases in Illinois stood at 324,743 with 9,026 deaths, the IDPH reported.
"Now more than ever, we need the public to engage in the process and not just see the prize — a return to normalcy — at the end of this," says Soulakis. " We are still very much in the middle of the pandemic, and it takes extraordinary measures, including masks, keeping our distance, contact tracing, parking lot testing facilities, and more, to allow for even some semblance of life as it was before. For every community group that decides it is safe for them to resume their sport, activity, or celebration, there are dozens and dozens that are sacrificing their opportunity to do the same to keep down transmission. That feeling of safety, it comes at a cost felt across the whole community, and we all have to share that burden."
After holding steady for weeks, the positivity test rate for COVID-19 infections in Illinois is once again on the rise. The seven-day positivity rate from October 6 to October 12 stood at 4.5 percent, with positive tests rising every day during that period.
"People often don't see the connection between their own actions and the pandemic, but the reality is that if everyone discussed exposure and acted appropriately, it would lessen COVID-19 spread," says Soulakis. "As an epidemiologist, it's my job to investigate the disease and help determine how to control its spread, but with COVID-19, I am learning that epidemiologists  often take on the role of trusted counselors as we caution the public while letting them know that if we make the right decisions, everything is going to be alright." 
On October 15, Soulakis delivered the inaugural "Translational Applications in Public Health" lecture, which focussed on Public Health Practice in the Time of COVID-19.
Written by Roger Anderson