Schnaper Remembered as Committed Scientist, Friend, Champion of Mentorship
Newton once said of mentors, "If I have seen further it is by standing on the shoulders of giants." Earlier this fall, the world lost one of those giants.
William "Bill" Schnaper, MD
, who arrived at Northwestern in 1994, passed away on November 19 after a long illness. Schnaper was a tenured professor of Pediatrics at the Ann & Robert H. Lurie Children's Hospital of Chicago and Northwestern University Feinberg School of Medicine in the Division of Kidney Diseases. He was also the longtime director of the Northwestern University Clinical and Translational Sciences (NUCATS) Institute's Multidisciplinary Training Program in Child and Adolescent Health (
TL1
).
Schnaper helped develop the novel TL1 program to promote interactions among both mentors and trainees in pediatrics and engineering in order to encourage creative thinking and new approaches in child-health research. He then worked to grow the program from three annual postdoctoral fellows to eight.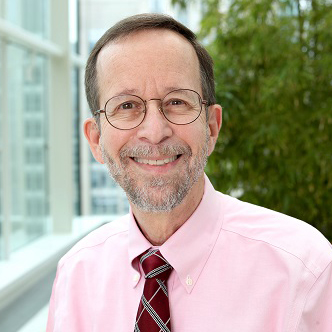 "Bill and I both joined the Northwestern faculty and Children's Memorial at the same time, and Bill was charged with mentoring and supporting new faculty who had been given research time and resources," says Susanna McColley, MD, TL1 Director and professor of Pediatrics in the Division of Pulmonary and Sleep Medicine. "He had this amazing gift of giving rigorous critical feedback with kindness and support. He was a champion of career development and used his talents to lift the careers of trainees." 
In talking to anyone who knew Schnaper, one will find they all have a story about the first moment he affected their life.
"Almost as soon as I joined Lurie Children's in 2016, I met Bill in a meeting that he convened to talk about how to amplify mentorship across the department," says Matthew Davis, MD, MAAP, chair of Pediatrics. "It was clear to me from the first moment how much Bill cared about mentoring and supporting the next generation of pediatricians — particularly pediatricians who wanted to advance children's health through pathbreaking science."
Schnaper's legacy undoubtedly lives on through the hundreds of individuals whom he directly and indirectly helped position for longstanding careers in academic medicine. His influence within pediatric research was frequently recognized. He was honored with the Founder's Award from the American Society of Pediatric Nephrology (ASPN), for lifetime achievement, in 2018. In 2020, the ASPN established a recurring national lectureship in his name to honor outstanding science focused on his areas of significant scientific contributions — childhood glomerulonephritis and factors that contribute to renal fibrosis. 
Schnaper was born in Baltimore on March 16, 1950. He received his bachelor's degree in Philosophy from Yale University and his MD from the University of Maryland in 1975. He served as a resident and chief resident in Pediatrics at Mount Sinai Hospital in New York before completing two years in the National Health Service Corps, followed by a fellowship in Pediatric Nephrology at St. Louis Children's Hospital. His first faculty appointment was at Washington University in St. Louis, and Schnaper held positions at the National Institutes of Health and George Washington University before arriving at Northwestern.
"Professionally, Bill was a career-long, committed scientist and scholar, but he always prioritized education and mentorship as essential to multiply the modest contributions of individuals," says Thomas Green, MD, professor of Pediatrics in the Division of Pulmonary and Sleep Medicine. "Personally, Bill was a loyal and tireless friend who always rushed forward when things got tough.​ He was humble and kind, but had high standards and principles that he defended with boundless courage."
Green says Schnaper's secret for success was his "complete devotion to his wife, Maria, his children, and grandchildren, who all loved him and supported him in return." 
While his laboratory focused on basic and translational research related to kidney fibrosis, family and music remained front and center throughout Schnaper's life. 
"He spent countless hours coaching soccer teams, and mentoring his children's science projects," his obituary read. "Bill had a passion for music. While he never realized his lifelong dream of his family following in the footsteps of the Von Trapps, he played violin, bass guitar, and guitar, and toured the college circuit with his band at Yale University, US-1 East. In later years, he played bass for another band, Suburban Legend. In addition, he participated in his synagogue choir and performed locally in a Klezmer band. He attended the opera and symphony any chance he could get."
"Bill made an indelible impression on everyone I know who worked with him at Northwestern," says Emily Traw, assistant director for the NUCATS Institute's Center for Education and Career Development. "His character, compassion, humor, generosity, genuineness, intelligence, savvy, and creativity guided the way he cared for his mentees. Bill was always connecting with people, and that is what we will miss the most." 
A private graveside service was held for Schnaper on December 1. In lieu of flowers, the family has asked that donations be made to the ASPN's H. William Schnaper Honorary Lecture.
Written by Roger Anderson