Makinde Named KL2 Scholar
Hadijat Makinde, PhD, a research assistant professor of Medicine in the Division of Rheumatology, has joined Lisanne Jenkins, PhD, and Ravi Patel, MD, MSc, as a 2020 KL2 scholar. The Northwestern University Clinical and Translational Sciences (NUCATS) Institute's prestigious KL2 Multidisciplinary Career Development Program provides two years of dedicated mentorship, education and career development opportunities while conducting translational, multidisciplinary, clinical research.
"Being named a KL2 scholar means the world to me," says Makinde, who will be mentored by Harris Perlman, PhD, chief of Rheumatology. "Not only does this award show that the work we are trying to achieve is of value to the scientific community, but that Northwestern as an institution supports me in my ultimate career goal. This award is the next step on my path towards becoming an independently funded academic scientist."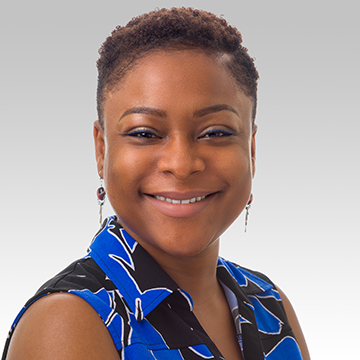 Makinde's research addresses the impact of monocyte — a type of white blood cell — populations in scleroderma, an autoimmune disorder that affects the skin and internal organs. Her long-term research goal is to develop a precision medicine approach for the 300,000 Americans who suffer from the disease.
Since arriving in Chicago from Lagos, Nigeria, in 2002, Makinde has maintained a singular focus. Following her bachelor of science degree in biology at the University of Illinois at Chicago in 2008, she completed a doctoral program at Rush University with a concentration in mucosal and innate immunology in 2015.
"I've always known that I wanted to pursue a career in science, specifically in academic research," says Makinde, who completed her postdoctoral fellowship in the lab of Steven Schwulst, MD. "I anticipate that this KL2 award will position me to eventually realize my dream of becoming a tenure-track professor in the field of computational immunology with a focus on rheumatologic diseases."
In 2016, Makinde was awarded a Division of Rheumatology T32 grant (T32 AR007611). She then joined Perlman's lab in 2018 to continue her work in rheumatologic diseases. Her impactful scholarship was recognized during Northwestern's Research Day the same year.
"The intellectual growth, along with the technical and collaborative skills that I will gain with support from the KL2 training program, will enable me to begin my transition from a trainee to a successful independent translational scientist capable of obtaining extramural funding for my research endeavors," says Makinde. "I am so thankful for this opportunity and intend to take full advantage of all that the KL2 program has to offer to foster my development as an academic scientist."
Prior to the KL2 Program, Makinde benefited from various NUCATS resources, including those available through the Galter Health Sciences Library and Learning Center.
The KL2 Career Development Program at NUCATS is supported by the National Institutes of Health's National Center for Advancing Translational Sciences, Grant Number KL2TR001424.
Written by Roger Anderson