Isakova Named Co-Director of Northwestern's KL2 Program
Tamara Isakova, MD, MMSc, the Margaret Gray Morton Professor of Medicine, has been named co-director of the Northwestern University Clinical and Translational Sciences (NUCATS) Institute's KL2 Program. 
"I am very excited to join the Institute's Center for Education and Career Development," says Isakova, an associate professor of Medicine in the Division of Nephrology and Hypertension and Director of the Institute for Public Health and Medicine's Center for Translational Metabolism and Health. "I have worked with, learned from, and have been inspired by the Center's exceptional team of leaders, and I look forward to sharing my experience in collaborative patient-oriented research, mentoring of young investigators, and training program leadership to foster the interdisciplinary career development of KL2 Scholars."  
The Multidisciplinary Career Development Program (KL2) supports early-career faculty at Northwestern and is sponsored by the National Institutes of Health's National Center for Advancing Translational Sciences, Grant Number KL2TR001424. The program is designed to train a diverse workforce of investigators to drive future innovations and implement effective clinical and translational research. The award includes salary support and additional resources to ensure protected time for mentored research and didactic training in clinical research. Three esteemed early career investigators became KL2 Scholars as part of the 2020 cohort.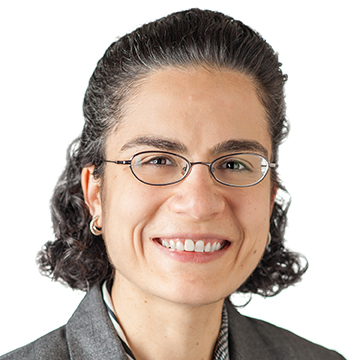 Isakova will lead the KL2 program alongside Leena Sharma, MD, the Chang-Lee Professor of Preventive Rheumatology, who was named co-director earlier this year.
Having joined the faculty in 2013, Isakova is an established clinical investigator with a strong record of independent funding from the National Institute of Diabetes and Digestive and Kidney Diseases. She has experience in epidemiologic and patient-oriented research and in multi-center clinical trials. 
Her team investigates novel mechanisms underlying the development of cardiovascular disease in patients with chronic kidney disease, and her work includes studies in the Chronic Renal Insufficiency Cohort Study. During the past decade, mentorship has played an increasingly larger role in Isakova's career. In 2019, she received the American Society of Nephrology Distinguished Mentor Award and was also named Faculty Mentor of the Year by the Medical Faculty Council at Northwestern University Feinberg School of Medicine. 
"Exceptional mentors played a critical role in facilitating my career trajectory, inspired my mentoring objectives, and shaped my approach to mentoring overall," says Isakova. "Today, my mentoring philosophy centers on the following pillars: comprehensive training in key patient-oriented research skills, application of skills to design of trainees' own patient-oriented research studies, and mapping out a focused career development plan that allows trainees to pursue highly significant research questions and to transition to independence. Although I have mentored trainees across the career development pipeline, I have prioritized my time for individuals committed to intensive, patient-oriented research for whom I have provided a hands-on dedicated training program."
Isakova is excited to expand the already large impact of the KL2 program. Since 2008, KL2 program alumni have authored or co-authored nearly 1,000 publications. 
"There are many tangible benefits to KL2 Scholars, including the opportunity to develop support teams that provide peer and near-peer mentoring and coaching," she says. "Young investigators often face challenges that are unique to their professional stage but that are common across scientific backgrounds. Joint exploration of career development issues by Scholars helps them to better contextualize the problems and to identify potential solutions."
Visit the KL2 website to learn more about the program's Request for Applications.
Written by Roger Anderson